A new pedestrian friendly space has been added to the streets of downtown Billings this spring. The new space, known as a parklet, is located in a single, 10 minute parking space in front of The Sassy Biscuit Co. at 115 N. 29th St. The project came to fruition with help from the Downtown Billings Alliance development team and BID Street Team.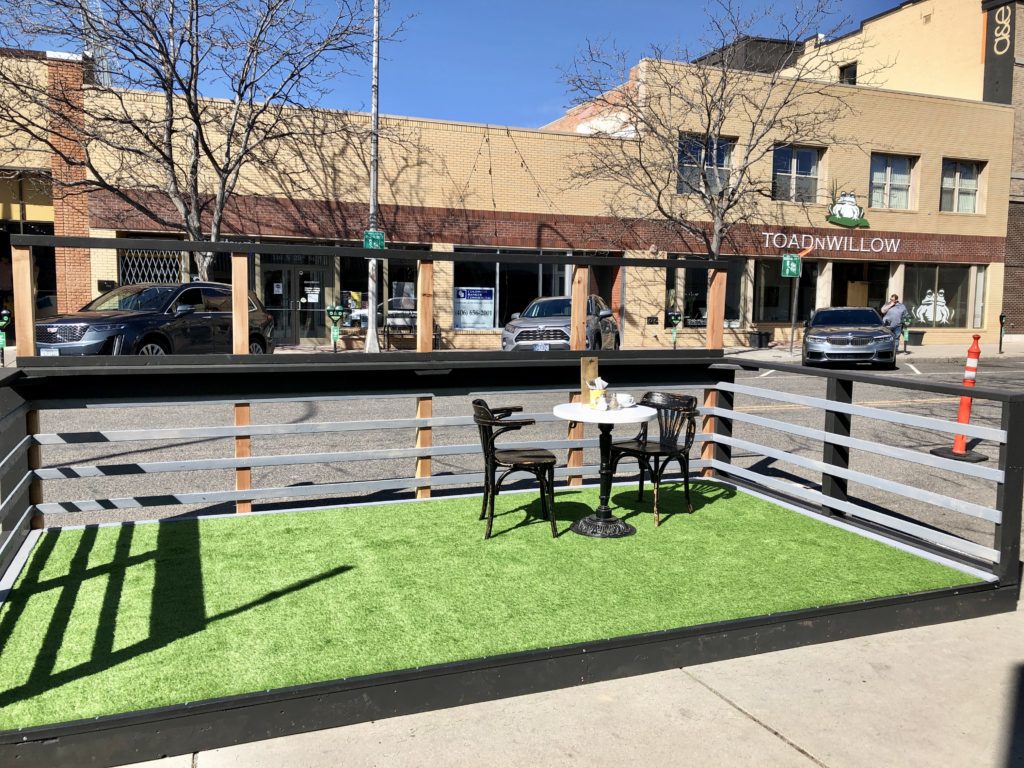 A parklet, by definition, is an extension of the business's seating or merchandise onto the sidewalk or onto a portion of the street to create an urban setting where patrons can browse or consume goods outdoors. The practice of utilizing parklets in urban spaces has been nationally proven to: (i) attract new customers and businesses to downtown settings; (ii) stimulate new, private investment and economic development; (iii) positively impact the marketability and perception of an area; and (iv) promote commercial revitalization by creating a communal destination.
The Sassy Biscuit Co. intends to use their parklet space as an outdoor dining option for their guests during their hours of operation in the spring and summer months.
History of the Parklet in Montana and Billings:
In 2016, Doc Harper's Tavern built a seasonal pedestrian friendly sidewalk extension in the parking spaces directly in front of their business on N. Broadway in downtown Billings. This allowed them to submit an encroachment permit and erect an outdoor patio space for their patrons while still meeting city pedestrian codes and state liquor requirements. The Doc Harper's Tavern pedestrian extension doesn't just help move pedestrians safely through the sidewalks, the construction of the extension also  includes seating options and seasonal flowers and plants that enhance the pedestrian experience altogether. The Doc Harper's Tavern pedestrian extension was the first of its kind in the state of Montana, and is still enjoyed seasonally by many community members and visitors.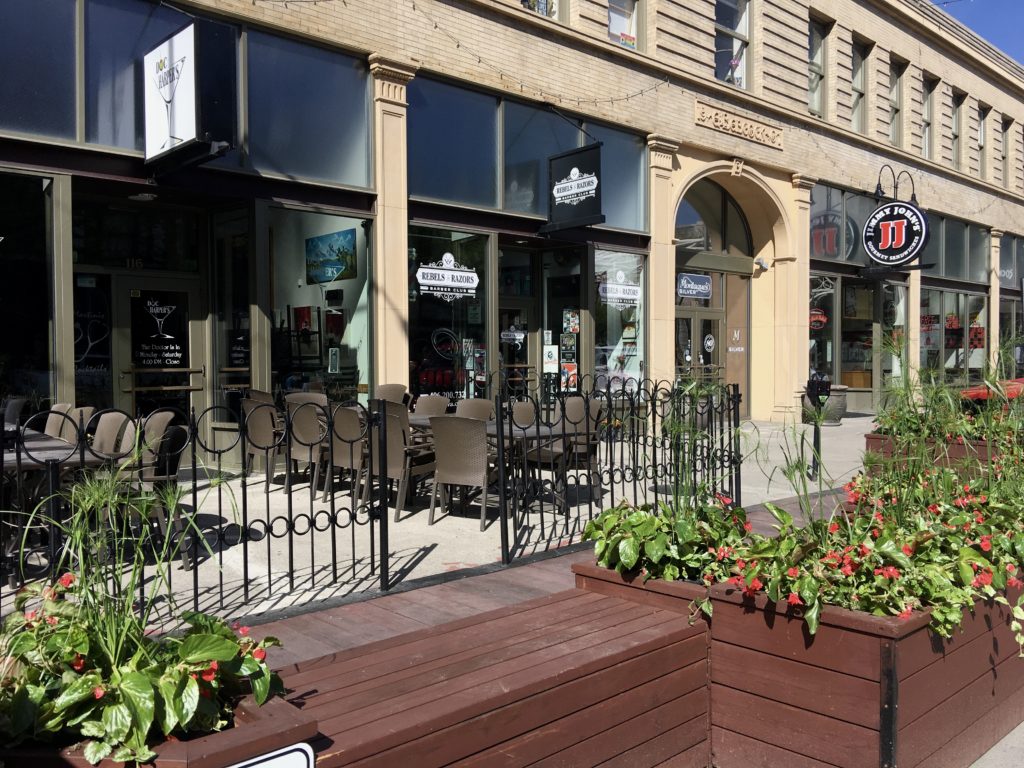 By 2017, sidewalk extension projects like the one at Doc Harper's Tavern, were given a national name, Parklet. A group of businesses in downtown Great Falls worked with State and Local governments to successfully create a parklet (or Pedlet as they call it) on their downtown's main street, which also happened to be a state highway. The accomplishment of erecting a parklet on a State Highway earned the Great Fall's efforts national recognition.
The 2020 COVID-19 pandemic brought temporary outdoor seating and gathering options to the forefront of community development conversations. Outside dining and gathering spaces have become very important assets to local business communities globally. 
In 2020 our downtown Billings development team began working with city staff and the city's parking department to create a downtown Billings Parklet Program. The program officially launched in April 2022. The Sassy Biscuit Co on N. 29th St is the first new downtown applicant to use the Downtown Billings Parklet Program but certainly not the last.
Downtown Billings Parklet Program:
The purpose of the Downtown Billings Parklet program is to provide guidance to downtown businesses who wish to pursue installing a seasonal parklet in front of their business storefront.
In order to install a parklet, a business must submit an application to the Downtown Billings Alliance. The application deadline is March 31st while the season to display the parklet extends from May 1st through October 31st.
If the parklet structure does not impede parking and does not involve serving alcohol, applicants must submit the Outdoor Furniture Permit. If the parklet structure takes away parking and may include alcohol service, applicants must submit the Encroachment Permit. If the structure takes away parking, a fee of $2,500 must be paid to the Parking Division for the season (May-Oct). Parklets may encroach over a maximum of 3 diagonal spaces (36 feet) or a maximum of 2 parallel spaces (50 feet).
While our team at the DBA is here to assist with the application, businesses are expected to work with designers to construct the structure. The business is also responsible for staffing, cleaning, decorating, maintaining, and storing the unit. There is no uniform design so they can range from a grassroots safely made structure to an elaborate design. Archatrak is a specialty company out of Bozeman that designs and builds such structures.