We are incredibly proud of this thriving program that brings 185 vibrant, colorful, and beautiful baskets of overflowing petunias to streets all around downtown. We can confidently say that the flower baskets are Downtown's most popular beautification program.
---
Sponsor a flower Basket for the summer
$85 per basket.
Each sponsored basket is paired with a vibrant sign that reads, "Sponsored By…", "In Honor of…", or "In Memory of…"
---
Much like our downtown small business community, the downtown flower baskets are quite resilient, flourishing through Montana's changing seasons and inclement weather. Each spring, the baskets seeded and nurtured with care by a local grower at Garden Avenue Greenhouse, and once mature, they are hung throughout the streets of downtown Billings, signaling for many the start of Summer. The BID Street Team dedicates a significant amount of time each year to support the flower basket program with a daily watering regiment that can take up to five hours on extra warm days. The baskets hang within the Business Improvement District's 8 mile Clean boundary and use about 150 gallons of water each day.
---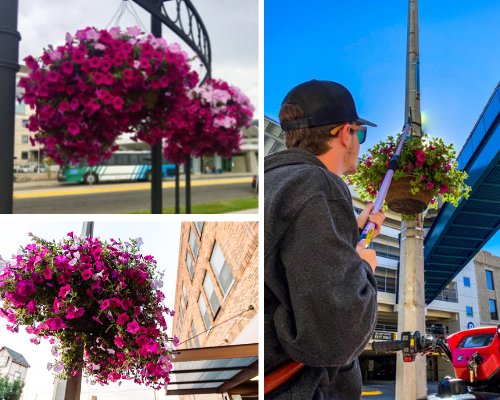 The flower basket program is funded by our team here at the Downtown Billings Alliance through several fundraising sources; individual community member donations, business/organization contributions, seasonal basket sponsorships, and the green parking meter program. Did you know each time you park and pay at a green meter, a portion goes toward beautification of downtown Billings?
The funds from these programs and sponsorships help us reach the flower basket program's annual fundraising goal of $20,000.