Downtown Billings Gift Cards
Buy Gift Cards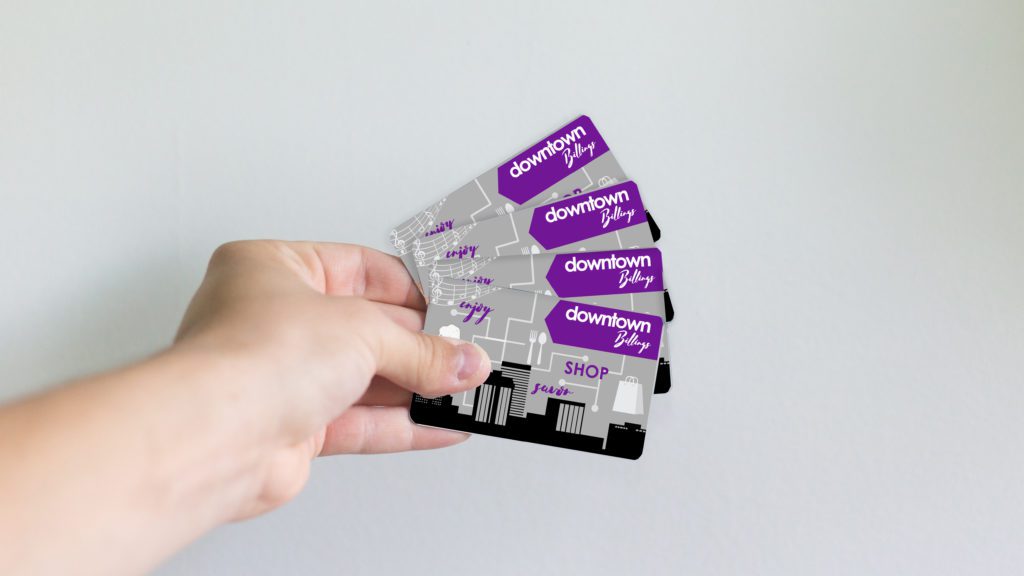 Local gift-giving just got easier! The NEW Downtown Billings Gift Card is a great way to buy local for any occasion. This one card gives the gift of options to eat, drink, shop, and explore Downtown Billings! By purchasing the Downtown Billings Gift Card you are helping money stay local and supporting the independent small businesses that call our downtown neighborhood home. Accepted at 50+ downtown locations.
Whether for holidays, weddings, birthdays, or graduation, a Downtown Billings Gift Card gives the recipient all that Downtown has to offer: fine dining, unique shops, exciting nightlife, art galleries, professional services, and much more. Purchase Downtown Gift Cards for employees, colleagues, friends, and family.
Purchase online and the card will be mailed to you. Please allow for 2 business days for processing and shipped via first class mail via USPS. Unfortunately at this time we cannot provide tracking information or insurance. You will also have the option at check for a local pick up. Chose any amount from $10-$500.
Participating Businesses  Check my Gift Card Balance  How do I sign my business up to accept Downtown Billings Gift Cards?
Local Pick-Up Orders are located at the DBA office at 116 N. 29th St., Ste A. from 9 am – 4 pm Monday through Friday.
Please contact us with any questions or call our office at (406) 294-5060.
Why was my card 'rejected' at a participating merchant?
Our gift card program is relatively new, so please double check the list of participating businesses before you try to use your gift card.
Most likely, your purchase exceeded the amount available on the gift card. This can be remedied by asking the merchant to charge another form of payment (for the difference) before swiping the gift card.
Where can Downtown Billings Gift Cards be purchased?
Online by adding the desired amount above to your cart
In person at our office 116 N 29th St., Suite A Billings, MT 59101
Where do I pick up the gift cards that I purchased online?
116 N 29th St., Suite A Billings, MT 59101, our office is open Monday – Friday 9 AM – 4 PM
In what amounts can the gift cards be purchased?
The cards can be purchased in any denomination from $5 to $500.
Click Here for Terms and Conditions. Card is issued by MetaBank®, N.A., Member FDIC.