Our 18th Annual HarvestFest fall vendor street festival takes place Saturday, October 8, 2022. The festival is free for the community to attend and takes place on the downtown streets below Skypoint from 9am to 4pm.
Click to view the digital festival map
HarvestFest celebrates the changing of the seasons with a rich diversity of arts and crafts, face painting, balloon creations, activities, an Oktoberfest Beer Garden, lots of baked goodies, and the final offerings of fresh produce.
Festival attendees can enjoy live entertainment at Skypoint at N. Broadway and 2nd Avenue N. all day.
Skypoint Entertainment
10 am Accordion Music with Russel Engesser
11 am Dancers from Greater Heights School of Dance
12 pm Magic City Montana Witch Dancers
1 pm Young Thunder Ramblers – Youth Indigenous Drum Group
2:30pm Bubbles for Imogen with Free bubbles at Skypoint for kiddos 6 and younger (while supplies last). 
Festival attendees can enjoy live entertainment at Skypoint at N. Broadway and 2nd Avenue N. all day. This year the scheduled entertainment under Skypoint concludes with something special and close to the hearts of many involved with the festival. This year we are hosting Bubbles for Imogen at Skypoint at 2:30pm to honor the life of little Imogen Hutchinson. She was only nineteen months old when she passed away the morning of HarvestFest 2021. Imogen's parents, Travis and Hannah, shared how much she loved the outdoors, bubbles, and was keen on a lively musical dance session. So we are combining all three to honor her memory on the one year anniversary of her passing. We have about two-hundred and fifty bottles of bubbles to give free to kids six and younger as well as stickers from Imogen's mom to give out as well. We hope the community will help us blow hundreds of bubbles while we dance under Skypoint to honor her life and her family who miss her daily.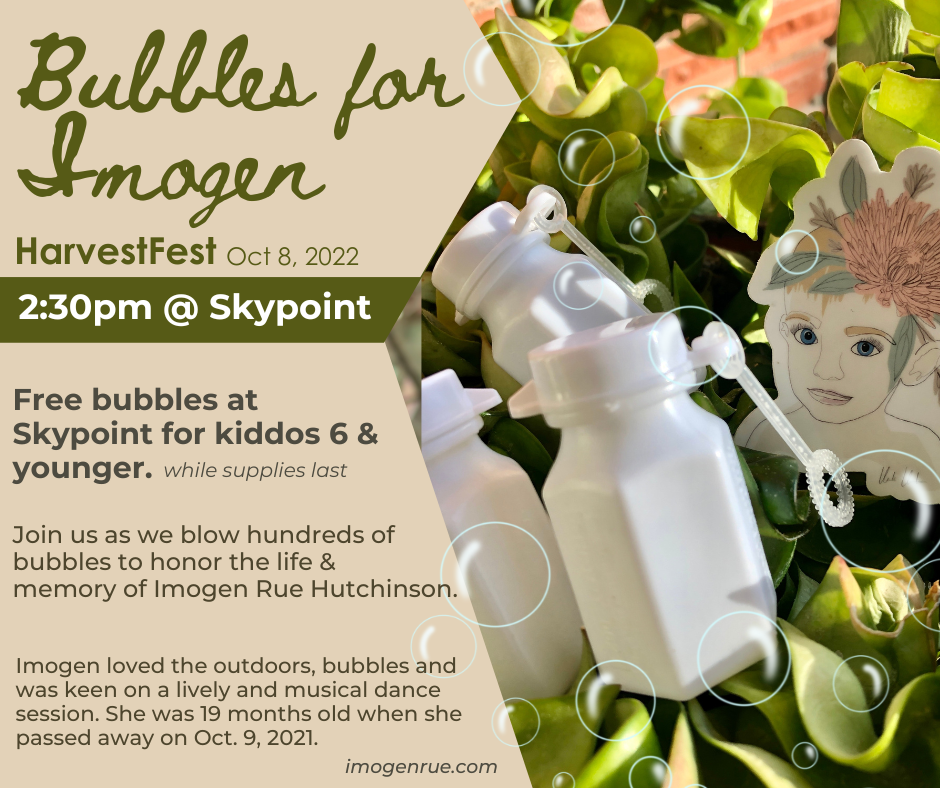 Imogen's dad, Travis Hutchinson, is a friend of ours here in downtown, he helps with the annual Purple 5k and many other local races. Her uncle, Justin Hutchinson will be the festival MC again this year.
---
Festival Co-Host Montana Brewing Company will have over 10 seasonal and pumpkin beers on tap in their Oktoberfest Beer Garden on N. Broadway in front of their restaurant. The annual Beer Garden stein hoisting contest returns this year. TDS Fiber joins the Beer garden this year. They will have College Football streaming from their van for everyone to enjoy.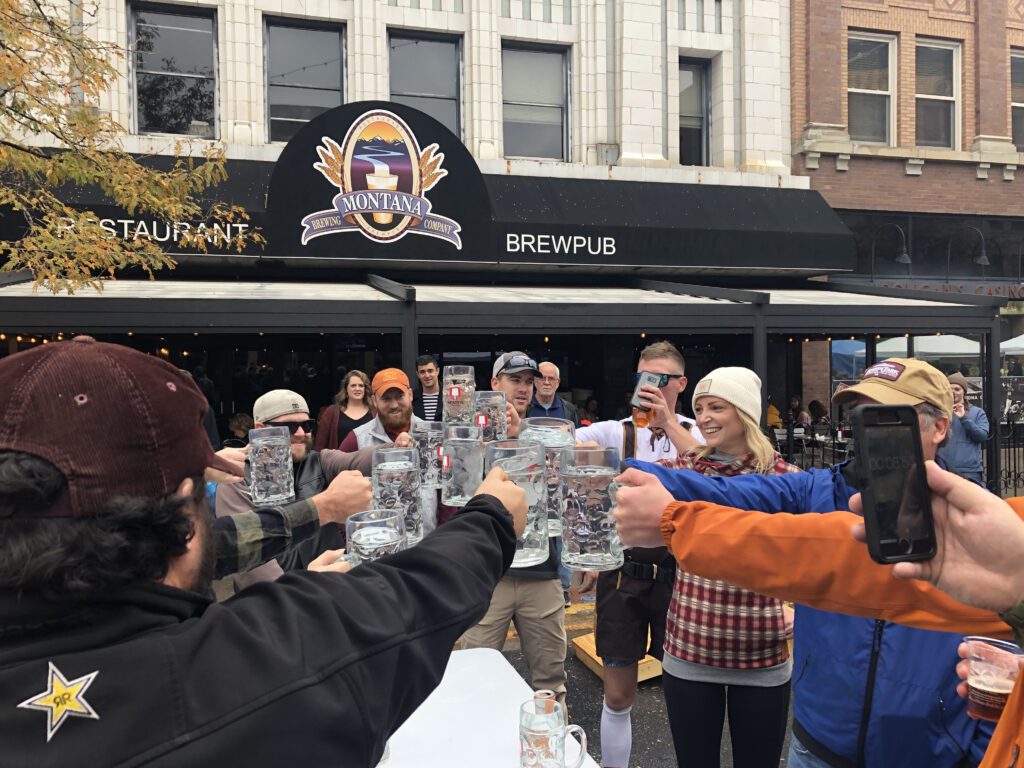 We will have two Hi-Strikers at our Skypoint information tent for you to test your strength and help fundraise for the Light Bike Trail public art project. Wise Wonders Science & Discovery Museum is delighted to host the Kids Zone where families with younger kids can participate in free kid-friendly activities. Additional activities include a four-person bungee trampoline from Montana Premier Entertainment and an urban laser tag course from Wild Rose Paintball & Bad Bear Laser Tag. Returning for a second year, the Yellowstone Valley Boys & Girls Ranch will have Scarecrows on display from their Upcycled Scarecrow Contest. The community is invited to come and vote for their favorite scarecrow contest submission to help choose the winning team.
Harvest Fest is hosted annually by the DBA's Business Improvement District. Presented this year by Montana Brewing Company. Additional sponsors include TDS Fiber, Valley Credit Union, Wise Wonders Science & Discovery Museum, and support from the Yellowstone Boys & Girls Ranch.