We are excited to announce the the downtown Billings "Light Bike Trail" project has officially begun with a 9 additional Light Bike installations currently in the works. The Light Bike Trail will be a mapped and walkable trail of 11, neon-lit bicycle art installations. They will run through the alleys of downtown Billings. With Light Bike installations located at Last Chance Pub & Cider Mill, Griffin Sawyer building, Cushing Terrell Architects, Uberbrew, Buchanan Capital, Pub Station (where the first light bike was installed in 2019), the Northern Hotel, YesterYears Antiques, Downtown Billings Alliance, and the Hedden Empire Building (where the second light bike was installed in in November, 2020). Soon we'll have both a walking Brew Trail, and a Light Bike Trail you can walk or cruise your own bicycle through the alleys to experience. We can't wait to see locals and visitors enjoying this addition to downtown.
As each Light Bike is installed we will share and celebrate one-by-one with you. Once the trail is complete, you, the public, will be invited to experience the "Light Bike Trail" by simply coming downtown and walking through the alleys to view these art pieces. We will be creating and launching an online accessible map of the trail. Everyone is invited to engage with us and the businesses attached to the Light Bike locations by using the hashtag #lightbiketrail to share your experience on social media platforms.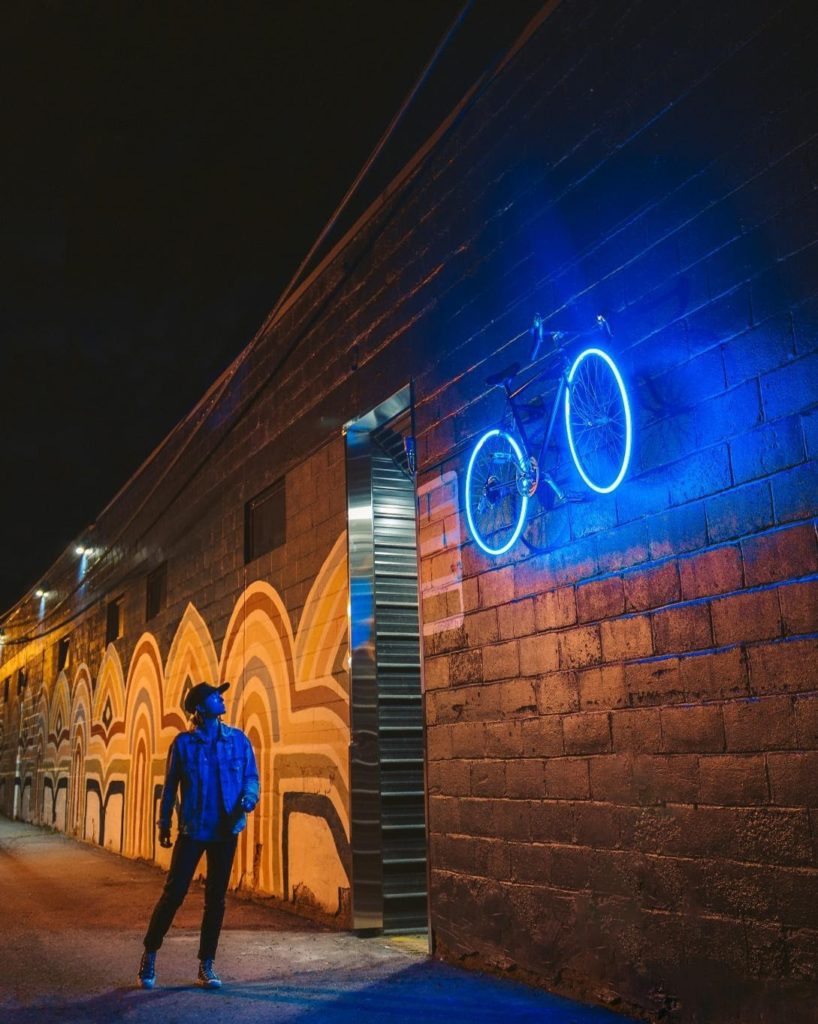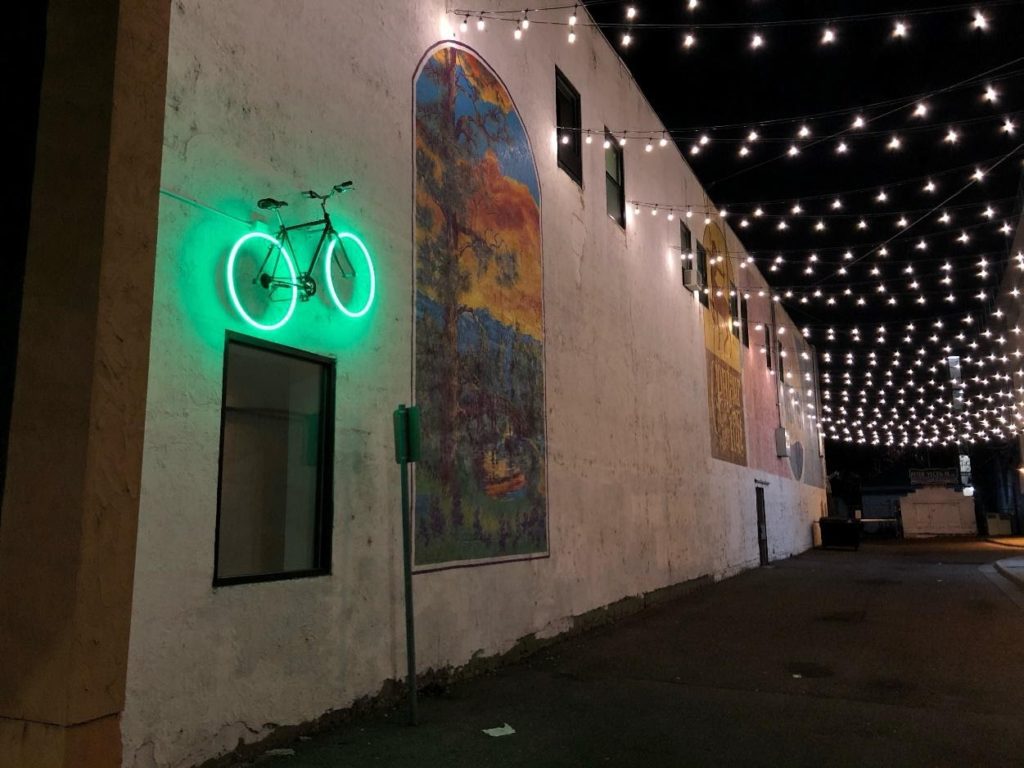 There are a number of intentions for the creation of the Light Bike Trail; The project creates a trail of light bike art installations that provide a source of light, clean up alleyways, deter crime, and create a landscape for future alley-scape projects. The creation of this "Light Bike Trail" invites residents and visitors to explore downtown and support local businesses through a positive and safe pedestrian experience.
Joe Stout, Director of Operations for the BID shares;
"This project brings more to downtown than just creating an attractive space for community, it's great for overall public safety, as it brings more eyes and desired activity on a once easy to overlook alley. It enhances the safety and experience everyone has downtown."
April 2021 we learned that the Light Bike Trail project was a recipient of a Big Sky Economic Development 2021 Space2Place grant we had applied for earlier in the year. The Space2Place grant will cover $3,000 of the estimated $15,000 total project costs. We plan to collect the additional funds needed  for the 9 remaining Light Bike installations through financial commitments from each building owner toward the install of their specific light bikes, with additional financial support coming from sponsors, public art donations, and the 50/50 raffle funds raised at the July 10, 2021 Strawberry Festival. We so thankful for the community support. To date all the bikes for the project have been donated, and the downtown Billings Business Improvement District (BID) will contribute all labor and materials required for the preparation and install of the light bikes. We will call upon volunteers to help us with alley clean-up events surrounding the installation of each light bike and as the "Light Bike Trail" evolves, and various forms of funding become available, we hope to commission a mural on every wall where a light bike is located. We strive to highlight local artists who share a common passion for the enhancement of our downtown spaces.
As an organization we are committed to adding and supporting impactful public art projects like these light bikes because people are drawn to travel to view, photograph, dream and eventually create murals and additional alley-scape elements to add to these spaces. It's our belief that this project will attract tourists, community members, social media influencers and artists to downtown Billings.