Alive After 5, Thurs. July 27, 5:00 pm to 8:00 pm
Location: Tiny's Tavern (323 N. 24th St.)
Band: Ryan Chrys and the Rough Cuts
Tiny's Tavern, located at 323 N. 24th St., celebrated their 30th Anniversary earlier this year. In March, their team led our Downtown St. Patrick's Day parade as Grand Marshal with an impressive 30 foot tall float of a schooner glass of their locally famous Orange Crush drink. The float, made by their team using tens of thousands of napkins, was named as the parade's 2023 Best Overall Entry. .
Now that summer is in full swing, Tiny's Tavern is ready to host the next Alive After 5 concert on Thursday, July 27th, from 5:00pm to 8:00pm on N. 24th St. between 3rd and 4th Ave N. Tiny's team will undoubtedly be serving their Orange Crush drinks along with other beverages all while Ryan Chrys and the Rough Cuts, Colorado's Country Music Hall of Fame 2019 Band of the Year, is on stage getting the whole crowd rocking. 
"Tiny's has been hosting an Alive After 5 concert for almost the entirety of the summer music series' existence. Their 2019 Alive After 5 with Arterial Drive held the attendance record until just two weeks ago. The community knows that the Tiny's Alive After 5 is a fun one and they show up no matter the forecast."

Lindsay Richardson, Community Engagement & Events Director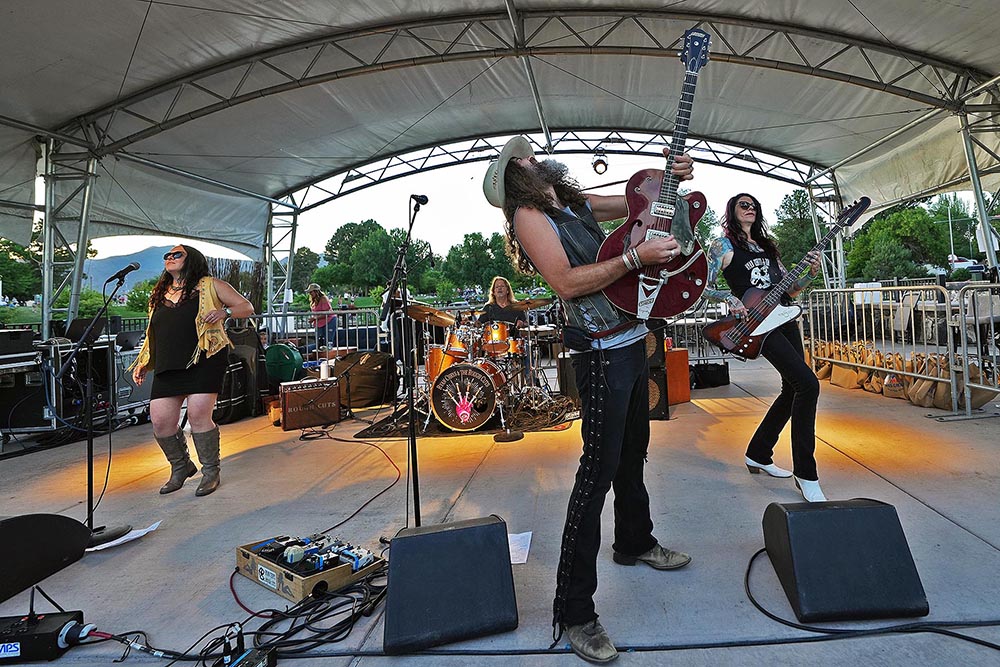 Whether you love classic country or '70s rock 'n' roll you are guaranteed to dance and sing the night away. Ryan Chrys and the Rough Cuts are a four piece band from Colorado consisting of Ryan Chrys (vocals/guitar), Michael Jochum (drums), Susan Phelan (bass/vocals) and Lauren Michaels (vocals). The group shares male and female leads in a mix of old school country and rock n roll. Their sound is influenced by the songs and personalities of legends like Waylon and Willie, they drive their sound with blazing guitars and a rock 'n' roll attitude. The band pays respect to classic styles, but anyone can tell from their overdriven sound that they're far from traditionalists. Known for their original style of blending old school country and rock 'n" roll. They've directly supported Dwight Yoakam, Shooter Jennings, Blackberry Smoke, Jason Boland, Justin Moore and more.
---
This year's 20th Anniversary of Alive After 5 is presented by our title sponsor Valley Credit Union. Alive After 5 is a weekly summer concert series that takes place Thursday evenings from 5:00 pm to 8:00 pm, outdoors at a different downtown location, June 8 through August 3.
Details on next week's August 3rd concert at McCormick Cafe can be found here.
Admission
Alive After 5 is an all ages event. Admission for each Alive After 5 is free to the public, however, those 21 and older wishing to consume alcohol must purchase a $2 wristband at one of the Purple DBA tents at the event.
The V.I.P. Area
A special tented V.I.P. area with seating options, tables, free ice-cold water, and easy access to one of the event bar locations. Only twenty, $10 V.I.P wristbands are available for purchase each week. To purchase a V.I.P. Wristband ahead of time you can call (406-294-5060) or visit the DBA office (116 N. 29th Street) Monday through Wednesday 9am to 4pm. All remaining V.I.P. wristbands will be sold on a first-come-first-serve basis each Thursday on-site directly at the week's Alive After 5 V.I.P. area.
---
Who Makes Alive After 5 possible?
Alive After 5 is coordinated annually by our team at the downtown Business Improvement District (B.I.D.). Valley Credit Union has been the producing (title) sponsor of the Alive After 5 concert series since 2019. Supporting sponsors include TDS Fiber, MariMint, Alpha Overhead Door, B-Town Vapes & Glass, Hensel Law, Stella's Kitchen & Bakery, ClockTower Inn, Planet 106.7, Zone 96.3, Classic Hits 105.9, KSKY 94.1, KBEAR 98.1, ESPN 910, and Earth First Aid. Each series sponsorships help cover the booking costs of the many local, regional, and national bands in the line-up.