Our most anticipated summer concert series, Alive After 5, turns twenty this year. The 20th Anniversary Alive After 5 series runs Thursday evenings, 5:00 pm to 8:00 pm, June 8 to August 3, 2023 presented by our team at the Downtown Billings Alliance (DBA) and Valley Credit Union. The concerts occur weekly, outdoors, and at different downtown locations.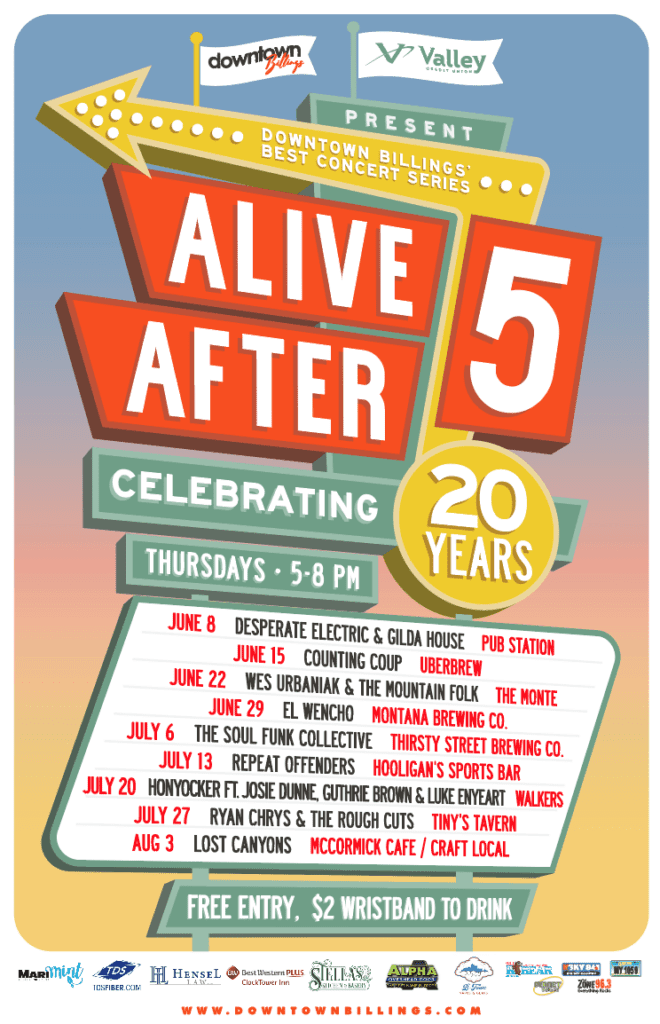 Admission is free to the public, however, those 21 and older, wishing to consume alcohol will need to purchase a wristband for $2. 
The revenue generated through the wristband sales at each Alive After 5 helps sustain the coordination and facilitation of downtown beautification projects, public art projects, and other free community-centric events we host throughout the year.
---
The V.I.P. Option: Twenty $10 V.I.P wristbands are available each week, and can be purchased before 12:00 pm each Thursday, either in person at our office (located at 116 N. 29th Street) or by calling our office at (406) 294-5060. The V.I.P. area offers a shaded space for you to cool off, hang out, and enjoy the show. The V.I.P. The area includes tables, chairs, free ice-cold water, and a great view of the stage. 
---
Alive After 5 started in Billings in 2003, by a group of downtown restaurant & property owners led at the time by the publisher of the Gazette. The original five Alive After 5 locations in 2003 included Walkers, McCormick Cafe, Montana Brewing Company, the former Pug Mahon's, and the former Rex location on Montana Avenue. Tiny's Tavern joined the group as a host location in 2004. The community's response to the concept of Alive After 5 was such a positive one that after a couple years of grass-roots coordinating, the group of host locations asked the DBA organization to facilitate it as one of their annual signature events. Over the twenty years, the idea grew. What started with an initial five concerts at five locations a summer became, at its largest, fourteen concerts at fourteen different locations to its current state. We coordinate the series from set-up to tear-down and beyond. Alive After 5 brings over 10,500 people to downtown Billings each summer. 
The 2023 season sponsors include; Valley Credit Union, TDS Fiber, B-Town Vapes & Glass, Stella's Kitchen & Bakery, The ClockTower Inn, Hensel Law, Mari Mint, Alpha Overhead Door, Earth First Aid, and Desert Mountain Broadcasting Radio group (Planet 106.7, Classic Hits, My 105.9, 98.1 KBEAR, 94.1 KSKY, 910 ESPN, The Zone 96.3).  Thank you for supporting the businesses that support us.