Healthy Signs for Downtown Billings
Monday, February 14, 2022, the City of Billings' Mayor & Council unanimously approved TIF assistance for a multi-use development that's the first of its kind, in decades, in Downtown Billings.
Griffin Development acquired two parcels at 2316 and 2318 1st Avenue North in 2019. Historically, the property housed businesses such as the Billings Floral Co., Empire Tire, Midland Distributing Co., Van's Appliance Repair and Whalen Tire. They purchased this property with the intent to develop the site into a visionary multi-use asset for the community.
The $1.7M assistance grant will be reimbursed in five installments over five fiscal years following the project completion. This funding will reimburse demolition and site-work as well as utility, safety and public improvements. 
"We've learned time and time again that developing housing downtown is more expensive than other parts of town. Meanwhile, downtown has the infrastructure for City services and the City Center offers the urban walkable experience that urban residents seek. We're eager to showcase this development as a pilot for others to follow in order to create more urban living. We are appreciative of City Council's leadership in welcoming this development and we hope that this will set the tone for more to come."

-Mehmet Casey, Downtown Billings Partnership's Development Director
The Downtown Billings Partnership (DBP) is a nonprofit overseen by a Board of Directors tasked with managing the Expanded North 27th Street Urban Renewal Plan and Tax Increment Financing District. You can learn more about this in our TIF blog article. A top priority of the downtown Urban Renewal Plan is creating downtown housing and thoughtful urban density.
The Specifics of this Downtown Project
This project, known as Old Town Flats, consists of two phases. The buildings to be erected on 1st Avenue North will fill the entire block frontage from North 23rd Street to North 24th Street, and back-up to the existing alley.
Phase One of this project will include a five-story structure with terrace seating on the structure's roof and an enclosed ground level, 27-space parking garage, along with 10 individual garages located off the alley. Floors two through five of the structure will include a total of 36 market-rate apartments with individual balconies (A mixture of studio apartments and one and two bedroom apartments).
Along with the 36 residential units, the first phase of this project includes a ground level commercial space along 1st Avenue North.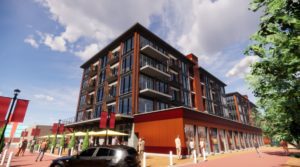 Phase Two intends to replicate Phase One with an additional pedestrian area along the half block of North 24th Street. Existing businesses adjoining the property to the south are Ciao Mambo, Uberbrew, Nova Theater, and Buffalo Block at the Rex. To the east is Cushing Terrell Architects and the Griffin Sawyer Building. To the west is Buchanan Capital.
The Importance of Old Town Flats and Other Downtown Development Projects
Investing in housing and multi-use facilities in our downtown enhances the area's density. Increased residential, business, and visitor-ship density elevates the downtown community as a whole.
As mentioned previously, the Old Town Flats project is the first ground up residential project in Downtown Billings in nearly a decade. Additionally, there are several similar developments that include housing components coming to downtown Billings in the near future.
These projects will contribute to the inventory of downtown housing options, opening the opportunity for more residents and workforce to live in the city's core. More residents downtown not only activates the direct neighborhood but also the density of people and increased commerce in the area invites further future infill developments within the downtown corridor.