Featured Article
---
September 13, 2023
A new mural titled "Symbols of Montana" has just been completed in the alleyway between Sandstone Gallery and the Yarn Bar in downtown Billings. As part of the #LightBikeTrail sponsored by Downtown Billings Alliance (DBA).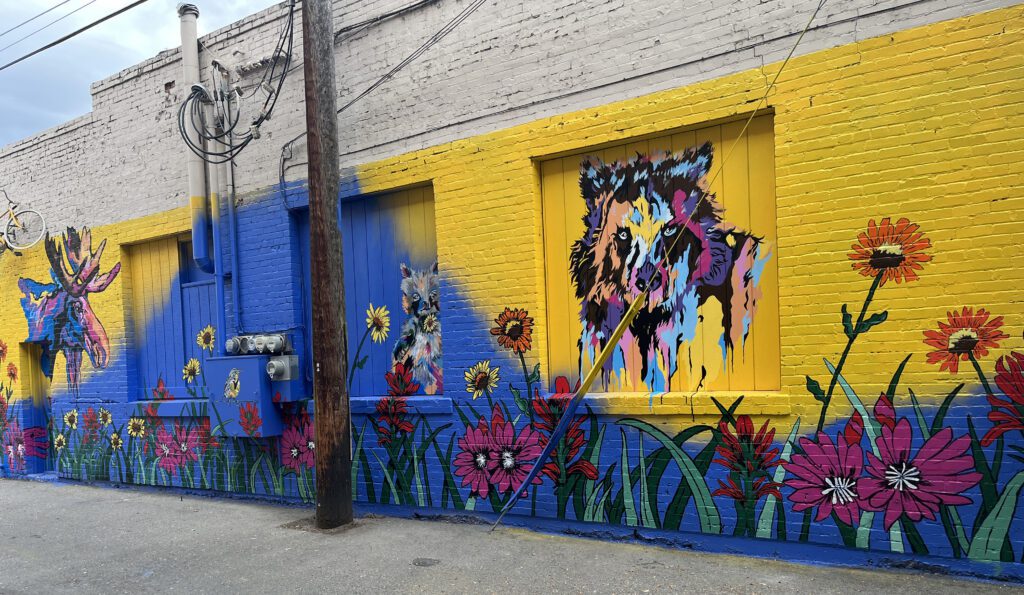 The #LightBikeTrail will be a mapped and walkable trail of 10, neon-lit bicycle mural installations that winds through the alleyways of downtown Billings and is sponsored by Downtown Billings Alliance (DBA). The idea of the #LightBikeTrail is to brighten dark areas to make them safer and more beautiful, and to make an enjoyable family walk or bike ride through downtown. Sandstone Gallery was awarded a grant to install a fifty-foot wide by twelve-foot-high mural depicting traditional and well-known symbols of Montana.
The first step was to get the building owner's approval. Once approval was attained, the fun began with the design consisting of several symbols of Montana including the state animal – grizzly bear; the state bird – meadowlark; the state flower – bitterroot; and other symbols many people recognize as truly "Montana" – moose, paintbrush flowers, and big sky. The grizzly was designed after Lynn Shield's "Purple Bear" painting, and the moose was designed after Sandstone's Co-Director Teresa Brown's "Mr. Moose" painting. The meadowlark and flowers are a combination of styles by other gallery artists. The next step was submitting the proposal to DBA and waiting.
"I absolutely loved painting the bear. It is the largest canvas I've ever worked on, and it was a wonderful challenge. But I think what I loved most about this project was the teamwork of our members. I've only been with Sandstone for a few years, and this is the largest team project we've worked on. I really loved the energy everyone had toward creating something lasting and beautiful. I believe we reached our goal of representing Montana and the diverse styles of our artists."

Lynn sheild, artist
Once we were given the green light, the real work began with Sandstone's member artists Dick Cottrill, Madelein Bladow, Teresa Brown, and Ken Denning power washing the wall, which likely had 20 years of dust and who knows what on it, making sure to keep the integrity of the old bricks. Next came color selection from the amazing colors by Sherwin Williams. Dick, Ken, Lynn, Teresa, and Madelein spray painted the base coat of blue and yellow. Then, on a dark night in late August, Lynn and Teresa projected the design onto the wall and sketched the outlines of the moose, bear, and meadowlark. A few days later, Lynn set up early morning before dawn to sketch all the flowers and grass along the bottom of the mural.
"I loved seeing our vision come to life, and conquering my fears." When asked about her favorite part, she said, "It so awesome to showcase the many talents of our gallery artists on a lasting piece of art to be enjoyed by the entire community."

Teresa Brown, artist & Sandstone gallery co-director
Next, a schedule for painting was set, and the artists of Sandstone Gallery showed up with paintbrushes in hand. Lynn painted her bear and Teresa painted her moose, while Dick Cottrill painted the meadowlark. Lana Bittner, Madelein Bladow, Mary Hopper, Donna Moore, William Crain, Sandstone's Co-Director Jennifer Crain Baretta, Ken Denning, and Christine Denning, all lent their artistic skills to the body of the mural. Some of Sandstone's member partners were unavailable on painting days for various reasons, but they were there in spirit: Sandstone's Treasurer Nancy Morrison, Victoria Wetsch, John Kennedy, Ken Dvorak, and Leo Olson Estate. Greg Brown selflessly volunteered to transport, set up and tear down scaffolding each day, for which the artists are very thankful. All told, over 160 man-hours were spent painting this vibrant mural. Teresa Brown struggled with heights but was able to muster up enough determination to brave scaffolding for two full days of painting.
"Thank you to Downtown Billings. We love our mural, and we are proud to be part of the Light Bike Trail! We have wanted to do something like this for many years, and this grant opportunity helped make our dreams a reality."

Jennifer Baretta, sandstone gallery co-director
Sandstone Gallery, located at ​2913 2nd Avenue North in downtown Billings is a "Made in Montana" designated co-op gallery of sixteen local artists in the Billings, Montana, area with paintings, sculpture, jewelry, ceramics, glass, photography, cards and gifts. Regular hours are Tuesday – Friday 10 am – 5 pm, Saturday 10 am – 2 pm. The gallery is closed Sundays, Mondays and holidays.
For more information, call (406)256-5837, email sandstonegallerymt@gmail.com, or visit the website at sandstonegallerymt.com.