On Saturday, March 14, 2020, the Downtown Billings Alliance (DBA) and Hooligan's Sports Bar present the 39th annual St. Patrick's Day celebration in Downtown Billings. The day's events include the St. Patrick's Day Parade, Celtic Fair, and a street party hosted by Hooligan's Sports Bar. The parade begins at 11am, accompanied by the Celtic Fair and Hooligan's Street Party from 10am – 3pm.
2020 brings changes to downtown's St. Patrick's Day Parade. Upon request of the City of Billings & Montana Department of Transportation the long used downtown parade route has been changed to ensure that North 27th Street remains open and the downtown MET transfer center is not impacted by parade staging.
The parade staging area will now be located west of North 32nd Street. The new parade route will go East down 2nd Avenue North, turn North (left) under Skypoint, and then turn West (left) onto 3rd Avenue North where the floats will disband at Division and North 33rd Street.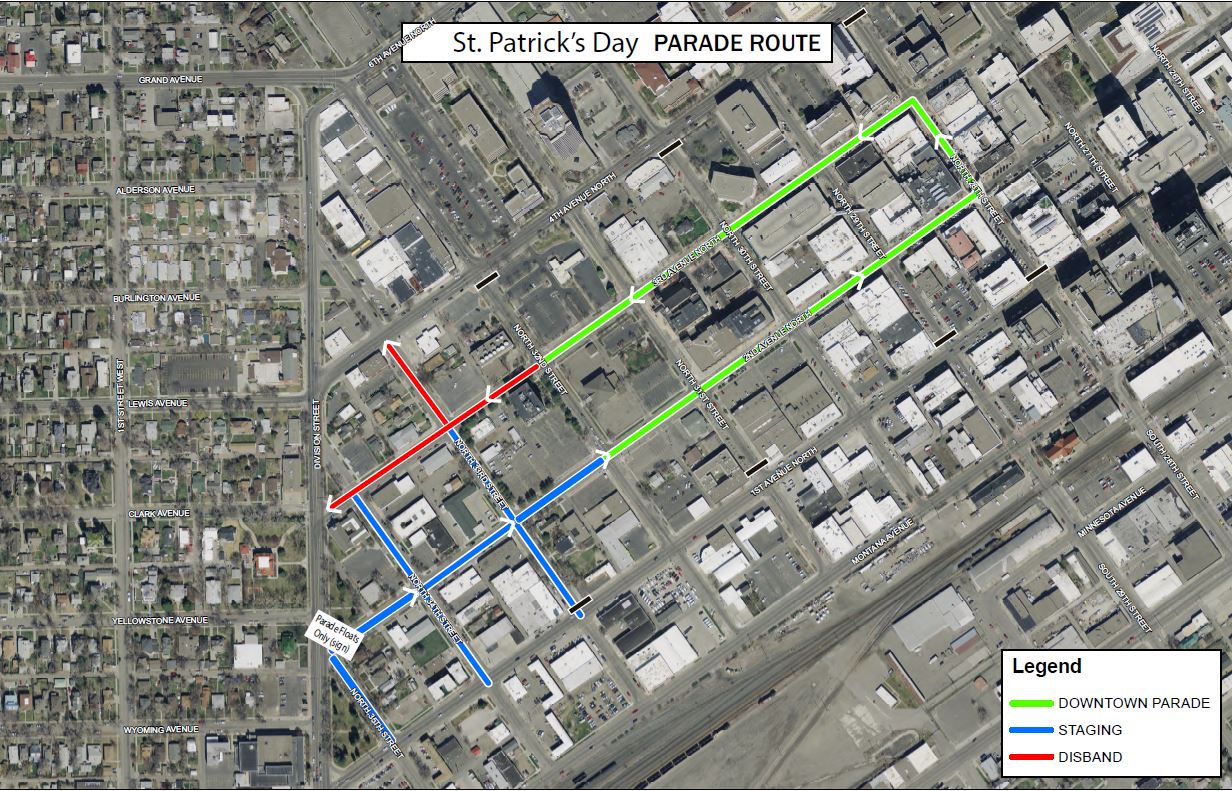 The St.Patrick's day parade has remained a cherished tradition in Billings for almost 40 years. The parade features upwards of 60 floats proudly constructed and decorated for the St.Patrick's Day holiday by local businesses and nonprofit organizations.
The parade will be moderated for the public's enjoyment by local radio DJ from the Desert Mountain Broadcasting group, Willy Tyler, and Local Blogger and Montana Matters host, Dianne Parker. The moderators and parade judges will be seated on the Community Entertainment Stage located on 2nd Avenue North out front of The Babcock Theatre.
To enter a float in this year's 39th Annual St. Patrick's Day parade before the February 28, 2020 application deadline, please click the button below.
The annual Celtic Fair portion of the day takes place on 2nd Avenue North between Broadway and North 27th Street. The Hooligan's Street Party remains on Broadway between 2nd Ave N. and 1st Ave N. There are more details to come about the Celtic Fair and Street Party themselves. Follow the Facebook Event for more details as they are confirmed.