Together with Hooligan's Sports Bar, we're delighted to present the return of the 39th annual St. Patrick's Day celebration right here in Downtown Billings. The 2020 St. Patrick's Day Celebration was the first of many events canceled, across the State of Montana, as a response to the COVID pandemic.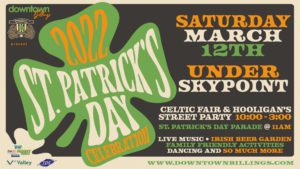 This year's celebration will include the St. Patrick's Day Parade that kicks off at 11:00am and the 10:00am to 3:00pm Celtic Fair and Street party. This year's St. Patrick's Day celebration  event is also sponsored by TDS Fiber, with additional event sponsorships from Valley Credit Union, The Zone 96.3, Planet 106.7, and My Classic Hits 105.9.
The Parade
The St. Patrick's Day Parade begins at 11:00am at 2nd Avenue North and North 32nd Street. heads East on 2nd Avenue North toward Skypoint. The route turns North on North Broadway under Skypoint before heading West on 3rd Avenue North.
The parade is free for the community to come and enjoy and features upwards of 40 floats proudly constructed and decorated for the St.Patrick's Day holiday by local businesses and nonprofit organizations.
Click here to enter a float in this year's St.Patrick's Day Parade  Float registration deadline is 4:00pm February 24, 2022. 
Click to view the Parade route
The Celtic Fair & Street Party
The Celtic Fair & Street Party begins at 10:00am, on the streets just below Skypoint at 2nd Avenue North & North Broadway, with a collection of food trucks, merchants, a balloon twister, face painting, and a lot of green swag. The celebration kicks off with a 10:15am performance from the Claddagh Irish Dance Academy dancers on the Hooligans Sports Bar Stage, located at 1st Avenue North and North Broadway.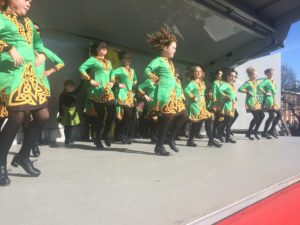 Once the parade fully concludes the Street Party portion of the day will ramp up on the streets below skypoint. A local Rock Band, Repeat Offenders, will take the Hooligans Sport Bar Stage on North Broadway for a FREE live outdoor concert from 12:00pm until 3:15pm. An outdoor Irish Beer Garden and special St. Patrick's Day promotions and giveaways will also take place on the street near the Hooligan's stage.
Additional activities will take place from 12:30pm until 3:00pm, on the streets below Skypoint and include: