We are now just over halfway to Christmas,

🎄

and we're not sure about you but we sure are looking forward to soaking in some holiday cheer.
This year, we are seeking community support for our downtown beautification efforts during the holiday season. Last year, our team added the letters to Santa mailbox and wrapped a number of poles on 2nd Ave N. with new lighting, all with the help of  funds raised during the Strawberry Festival from the Strawberry Shortcake tickets.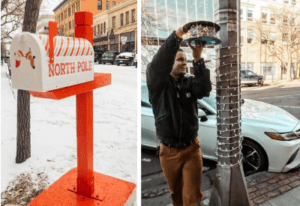 This year's project is much larger. It's time to update the large Downtown holiday light pole decorations. We know the current ones have warmed the hearts of many for decades, but they were purchased in the 1960s, with over 5 decades of winter wear and tear, most of the existing decorations are past their usable life. The BID Street Team puts the current holiday decorations up each November and takes them down in early January, with the help of a lift donated annually by Titan Machinery. The new LED holiday decorations have a winter theme vs. Christmas theme, allowing the Street Team to keep the decorations up for visitors and the community to enjoy for an additional month each winter.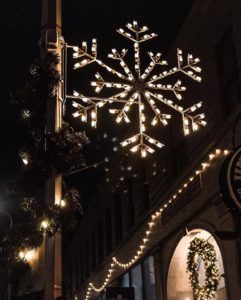 The new decorations are a large expense for our non-profit to carry alone, costing over $800 per pole, but we know they will make a LARGE positive impact on our downtown not just for the holidays but all winter. Each pole will have a large LED snowflake and LED lit garland warped down it. The DBA and the BID Street team plan on wrapping and lighting 23 light poles on 2nd and Broadway November of 2020. Any extra funds will be used to beautify 29th St between 1st and 3rd.
Please consider donating a few dollars to see your city shine this coming holiday season!✨ Help us bring some extra cheer to Billings in a year we all could use the cheer.
See What the New Ones Will Look Like:
We currently have one of the new snowflakes installed on Broadway in front of Rock Creek Coffee, so that you can check it out in person.