Alive After 5, Thurs. Aug 3, 5:00 pm to 8:00 pm
Location: Between McCormick Cafe (2419 Montana Ave.) & Craft Local
Band: Lost Canyons
McCormick Cafe, located at 2419 Montana Ave., has been an Alive After 5 host location for all twenty years of the series' existence making it the perfect place for us to wrap up the 20th Anniversary season on Thursday, August 3rd from 5:00 pm to 8:00 pm, while band Lost Canyons, an indie rock duo from Bozeman Montana, make their Alive After 5 debut.
The Lost Canyons consists of Kennan Krause (vocals and guitar) and Mitch Lauenstein (acoustic, banjo, vocals). The group was recently voted as the #1 New Local Band and #2 Local Rock Band for 2023 Bozeman's Choice!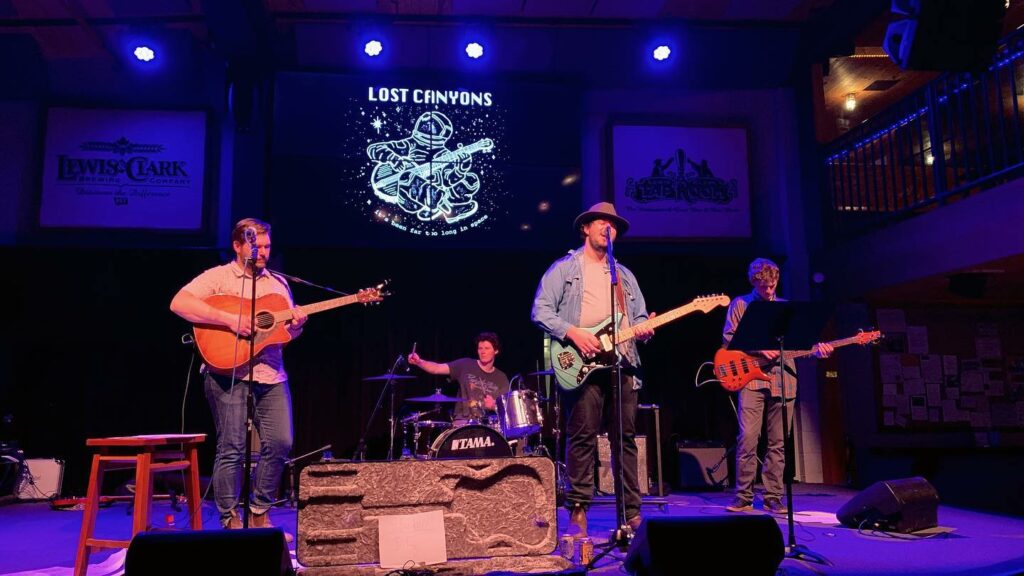 Every Alive After 5 season has a line-up that includes local, regional, and national bands. We know the Billings community love to support their local favorites so we make sure they are in the line-up, But we also see and hear all the time that they enjoy and crave a chance to support other touring bands from around Montana or from out of state too. This season alone we've hosted bands and musicians from Billings, Bozeman, Red Lodge, Hardin, Nashville, Illinois, and Colorado.
Alive After 5 is coordinated, from set-up to tear-down, annually by our downtown Business Improvement District (B.I.D.), a non-profit whose work plan focuses on a clean and safe downtown. The B.I.D. is a one of the four non-profit's housed within the Downtown Billings Alliance (DBA). In the eight weeks leading up to this week's final concert, our 2023 Alive After 5 series has brought over 11,000 people to downtown Billings this summer.
---
What is Alive After 5?
Alive After 5 is a weekly, all ages, outdoor summer event coordinated, from set-up to tear-down, annually by our Downtown team and hosted at a different downtown location each Thursday in June and July. Created to offer an outdoor space with live music and drinks for the community to gather downtown together during the week after work. The event moves from location to location to help boost the downtown economy of various downtown businesses, restaurants, breweries, and bars open in the evenings.
Admission
Admission for each Alive After 5 is free to the public, however, those 21 and older wishing to consume alcohol must purchase a $2 wristband at one of the Purple DBA tents at the event.
The V.I.P. Area
At each Alive After 5 there is a special tented V.I.P. area with seating options, tables, free ice-cold water, and easy access to one of the event bar locations. There are only twenty $10 V.I.P wristbands sold to the public each week, the rest of the V.I.P. wristbands are given to the many sponsors who support the Alive After 5 series. To purchase one of the twenty V.I.P. Wristband ahead of time you can call (406-294-5060) or visit the DBA office (116 N. 29th Street) Monday through Wednesday 9am to 4pm. 
---
The 2023 Series Sponsors
Valley Credit Union is the producing (title) sponsor of the 2023 Alive After 5 concert series. Supporting sponsors include TDS Fiber, MariMint, Alpha Overhead Door, B-Town Vapes & Glass, Hensel Law, Stella's Kitchen & Bakery, ClockTower Inn, Planet 106.7, Zone 96.3, Classic Hits 105.9, KSKY 94.1, KBEAR 98.1, ESPN 910, and Earth First Aid.