This 20th Anniversary year of Alive After 5 is presented by our team at the Downtown Billings Alliance and Valley Credit Union.
The next Alive After 5 concert is Thursday, June 15 hosted by the team at Uberbrew it takes place from 5:00pm to 8:00pm on N. 23rd St. between 1st Ave. N. and Montana Ave. and features local Billings band, Counting Coup.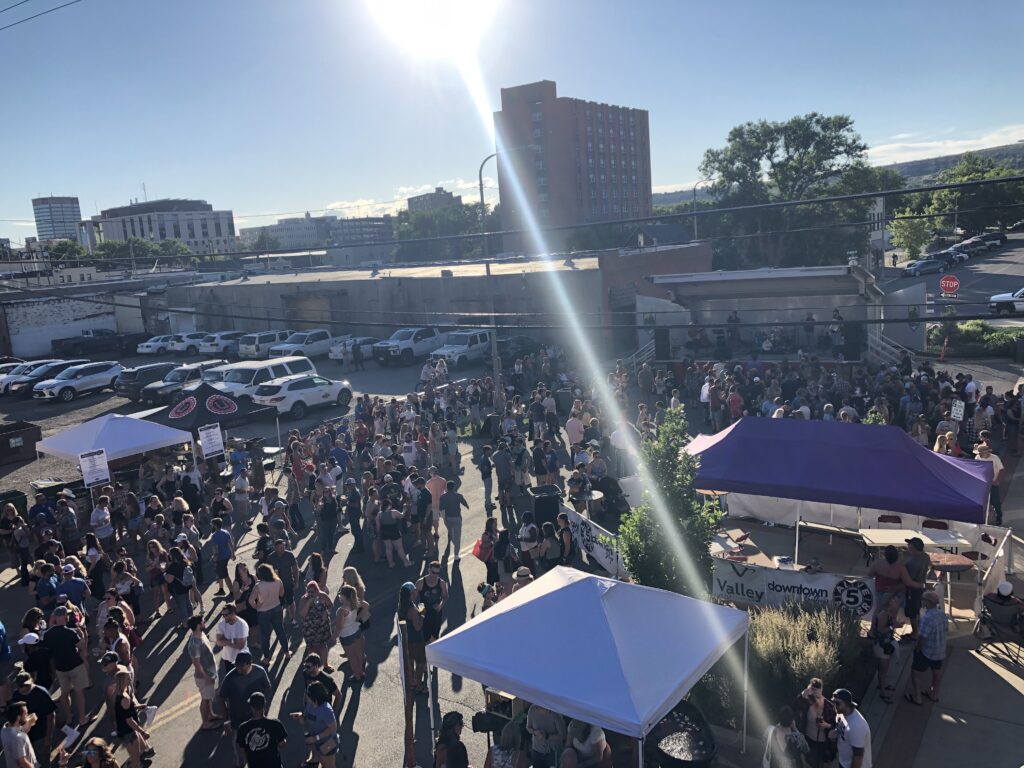 "Counting Coup made their Alive After 5 debut in 2022 at the series kick-off located at the Pub Station. While they shared the stage last year with local country band, Calvin & the Coal Cars. We're excited to have Counting Coup play the full set this year at Uberbrew's concert."

Lindsay Richardson, the Downtown Billings Alliance (DBA) Community Engagement & Events Director.
Counting Coup is a western-blues-folk-rock group formed in early 2018. The band consists of front man Troy Falcon (bass/guitar/vocals), along with Toby Falcon (guitar/vocals), Brenden Fritzler (harmonica), and Matt Kuhl (drums). Coup, pronounced "ko͞o", meaning to strike. In Native American culture, counting coup is the ultimate display of bravery. It comes in many forms but the most known is to touch your enemy in battle, showing that you could have taken their life and chose not to. No matter the case, counting coup always includes risking one's life for the sake of honor and bravery. Counting Coup, in its purest form, is an act of bravery reliant upon steel nerves, glorious ambition, and unfaltering faith. This band brings all these things and more to each performance. Counting Coup, with its rugged, rowdy, and broken sound, is bound to draw you in with soulful leads and melodies while flattening you with lyrics that range from gleeful to heart wrenchingly desolate. It is a collaboration of joy, pain, suffering, understanding, and plain old fun. The band comes with a broad range of influences. "We have many greats to look up to and will, unapologetically, throw in a cover or two amongst our originals." the band shares. Counting Coup were winners of the Red Ants Pants Music Festival's 2021 Emerging Artist Competition.
---
Admission
Admission for each Alive After 5 is free for all ages, however, those 21 and older wishing to consume alcohol must purchase a $2 wristband at one of the Purple DBA tents at the event
The V.I.P. Area
Each one of the Alive After 5 concerts has a special tented V.I.P. area with seating options, tables, free ice-cold water, and easy access to one of the event bar locations. Only twenty, $10 V.I.P wristbands are available for purchase each week. To purchase a V.I.P. Wristband ahead of time you can call (406-294-5060) or visit the DBA office (116 N. 29th Street) Monday through Wednesday 9am to 4pm. All remaining V.I.P. wristbands will be sold on a first-come-first-serve basis each Thursday on-site directly at the week's Alive After 5 V.I.P. area.
---
Who Makes Alive After 5 possible?
Alive After 5 is coordinated annually by our team at the downtown Business Improvement District (B.I.D.). Valley Credit Union has been the producing (title) sponsor of the Alive After 5 concert series since 2019. Supporting sponsors include TDS Fiber, MariMint, Alpha Overhead Door, B-Town Vapes & Glass, Hensel Law, Stella's Kitchen & Bakery, ClockTower Inn, Planet 106.7, Zone 96.3, Classic Hits 105.9, KSKY 94.1, KBEAR 98.1, ESPN 910, and Earth First Aid. Each series sponsorships help cover the booking costs of the many local, regional, and national bands in the line-up.