Koe Wetzel to headline the 3rd  Downtown Summer Sounds outdoor concert event at Minnesota Ave. Skate Park parking lot.
Together with the Pub Station Presents team, we are happy to announce the 2022 Downtown Summer Sounds concert event.
This year's event is once again a ticketed, all ages, outdoor concert in Downtown Billings and will take place on Saturday June 25th rain or shine in the spacious downtown Billings Skate Park parking lot, located at 24 S. 26th St. This will be the first, but certainly not the last live concert in this location. It's a great space in our downtown.
The event gates open at 5:00pm and the show begins at 6:00pm. General admission tickets are $44 and stagefront pit tickets are $79. Tickets go on sale Friday, March 25th at 9 am online at authorized ticket location etix, thepubstation.com, or the event's webpage here.  Online presale is available Thursday, March 24th from 10 am to 10 pm for both Pub Station and Downtown Billings Facebook followers and email subscribers.
The headlining artist of the outdoor concert event is recording artist Koe Wetzel, a Texas-born singer, songwriter, guitarist, and producer who has unapologetically bulldozed a path of his own since 2015. Brewing a homegrown blend of grunge, country, Americana, and anything else he pleases.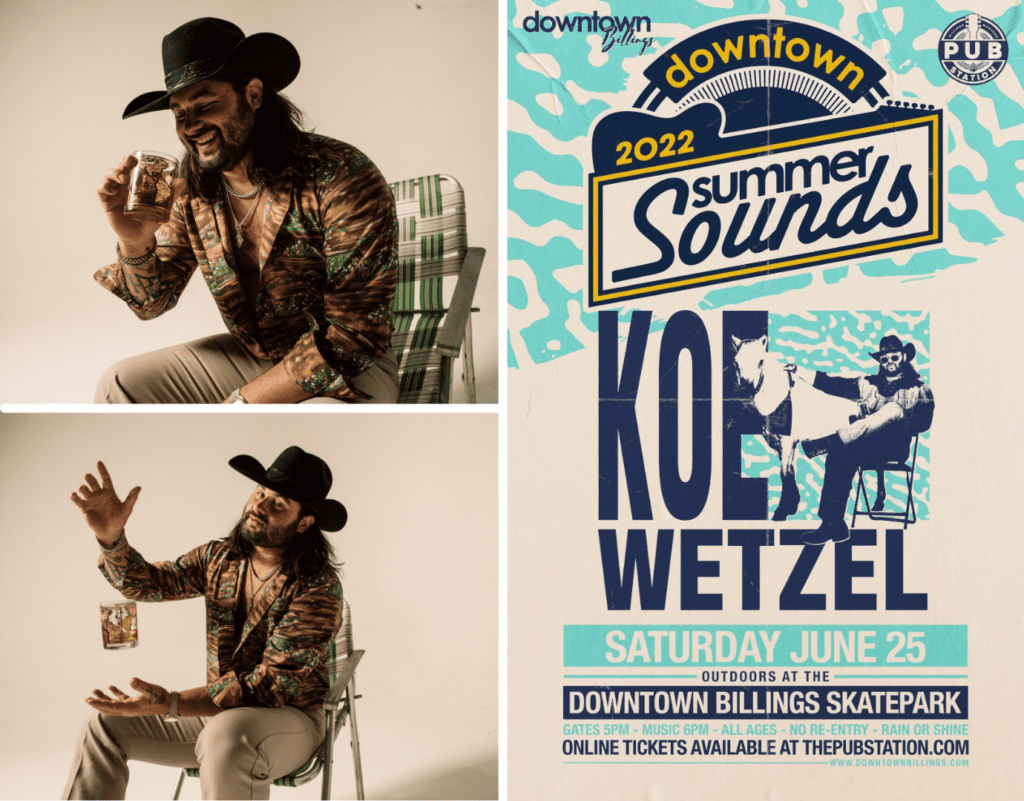 After moving 200,000-plus units of independent releases such as Noise Complaint [2017] and Harold Saul High [2019], racking up over 485 million streams and views to date, selling out countless shows, and even launching his own live extravaganza Koe Wetzel's Incredible Music Festival, he made his major label debut in 2020 with his third album, Sellout [Columbia Records].
Some of you may remember the first Downtown Summer Sounds outdoor concert event in 2019 with the Nitty Gritty Dirt Band rocking out on N. 29th Street in downtown Billings. Three-thousand people joined us for the first Downtown Summer Sounds show. The turnout of that event really surpassed everyone's expectations.
We did partnered with the Pub Station team in July 2021 to host a smaller version of the event with recording artist Ward Davis headlining at the Thirsty Street Garage location but that 2021 version drew only a fraction of what we know this event has and can draw. The cancellations of live concerts and large events due to COVID-19 delayed the return of a larger Downtown Summer Sounds event until now. We've worked with the Pub Station Presents team to bring Downtown Summer Sounds to the streets of downtown and feel confident that this year's third iteration of Downtown Summer Sounds will draw a large crowd from Billings and surrounding communities.
Funds raised from this event goes to Billings' Downtown Business Improvement District and help fund street beautification projects like the downtown flower baskets, future public art projects, and a number of large community events such as the recent St. Patrick's Day Parade & Celtic Fair, Alive After 5, Strawberry Festival, HarvestFest, the Holiday Parade and more.