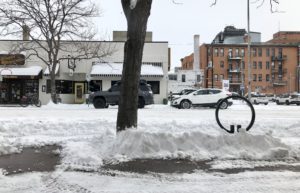 The snow accumulation from the April 12th snowstorm has made on-street parking challenging for downtown residents, employees, and visitors.
The BID has spoken with the City of Billings Streets Department and they are planning to clear the downtown streets Wednesday April 13 between 7:00pm to 11:00pm. 
"We encourage and kindly request all downtown residents, employees, or visitors use one of the many available downtown parking garages this evening to keep the streets open for the City's snow plows to remove the all the excess snow. That will make parking tomorrow so much better for everyone." Shares Joe Stout, BID Operations Director.
---
The forecast showed an all day snowstorm on Tuesday April 12th was imminent. So the BID (Business Improvement District) Street team made a Monday afternoon plan to arrive bright and early Tuesday morning to start plowing the 8 miles of downtown sidewalks.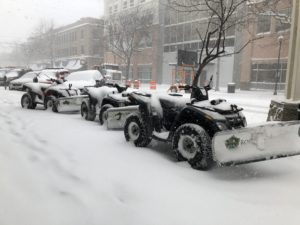 Our three member BID Street Team bundled up in their coveralls, work boots, beanies, and coats and hopped onto the three four-wheelers with plows attached and headed out into the snow storm at 6:00am to began what turned into 12 hours of plowing snow off of 22 blocks of downtown sidewalks within the Business Improvement District. Clearing a four foot walking path is one part of the BID Team's work plan. The team is committed to keeping downtown both clean and  safe for residents and visitors and making sure the sidewalks are walkable is part of that commitment.
The snow fell and accumulated at 3inches per hour, making them feel at time like their efforts were in vain. Reports say anywhere between 12 to 15 inches of snow fell on April 12th. Lucky for us the BID team members are no strangers to these types of moments and without complaint, they continued on with their commitment to move the snow from the downtown sidewalks.  By Wednesday morning, the team shared that they plowed the 8 miles of sidewalk at least 5 or 6 times since Tuesday morning.
If you have downtown BID or downtown snow removal questions email joeS@downtownbillings.com