Just in time for the first day of winter, the longest night of the year, and some of the coldest temperatures ever recorded, ShelterFirst is open nightly for temporary, emergency shelter until April 30, 2023. ShelterFirst was developed by the Yellowstone County Continuum of Care (CoC) in partnership with Billings First Congregational Church (BFCC) and the Community Crisis Center (CCC) to ensure our
unhoused neighbors with nowhere else to turn are not left outside in the cold this winter. Together, they will be able to provide a warm, safe place to sleep for up to 31 people nightly.

Guests can self-refer to ShelterFirst, but will need to complete security and crisis management protocol on site each night in order to be eligible for the program. During this check-in process, guests who can be adequately served elsewhere will receive a referral to the most appropriate shelter for the night.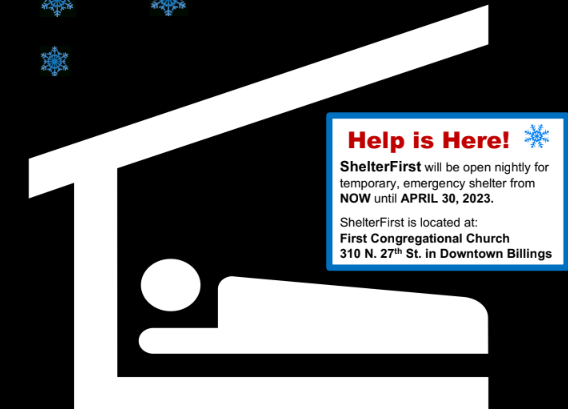 important details for those looking to refer guests to ShelterFirst:
Location: ShelterFirst is located at 310 N. 27th St. on the first floor of Billings First Congregational Church
Hours of Operation: ShelterFirst is open nightly from 6:30pm – 6:30am. Guest screening and check-in occurs from 6:30pm – 9:30pm.
Nightly Capacity: The City of Billings fire and building inspectors have granted us sleeping occupancy for up to 31 people overnight through April 30th, pending completion of minor improvements. This number is inclusive of adults and children.
Who We Can Serve: Anyone who is not a danger to themselves or others. This includes people with disabilities and/or those who utilize wheelchairs and walkers, people with service animals, people who are not sober, and people who cycle in and out of crisis regularly. Crisis Center staff will evaluate guests nightly to ensure they meet all safety requirements and cannot be sheltered elsewhere. NOTE: It is ShelterFirst policy for unaccompanied minors to be referred to Tumbleweed, adults with minor children to be referred to Family Promise, and domestic violence victims and survivors to be referred to the YWCA.
Ways you can support ShelterFirst:
For those who would like to lend your support to ShelterFirst, here are some ways to help.
Donate Supplies
Gifts of hand warmers, granola bars/non-perishable on-the-go snacks, coffee, tea, bottled water, hand/feet warmers, socks, mittens/gloves, hats, scarves, winter coats, totes for storing guest belongings, both large bins and smaller resealable containers, ziplock bags, duct tape, permanent markers, paper towels, toilet paper, hand sanitizer, face masks, and other emergency supplies can be dropped off daily at 310 N. 27th St. on the first floor of Billings First Congregational Church between 10am – 2pm.

Contributions
Financial support is also welcome. Donations can be made to:
Yellowstone County Continuum of Care
c/o United Way of Yellowstone County
2173 Overland Ave.
Billings, MT 59102
www.unitedwayyellowstone.org
Please list "ShelterFirst" in the memo line to ensure donations are directed as you wish
Volunteers
Anyone who wants to lend an extra hand or two is welcome to sign up to serve as an "Engagement Specialist" by visiting: https://bit.ly/ShelterFirstVolunteers or can do so by using the QR Code below. Engagement Specialists will help create a welcoming environment for guests and serve as community connectors to supplies and services.