You may have noticed new lighting in the alley along N 29th Street between 2nd and 3rd. The overhead lights are the first phase of the pocket park. The lighting was installed mid October by the downtown BID Street Team, just before our early winter snowstorm. This project involved about 800 feet of high quality lighting cord, the same amount of strong steel cable, and about 28 sets of concrete anchor and attachment hardware. And to complete the effect, 405 one watt LED light bulbs.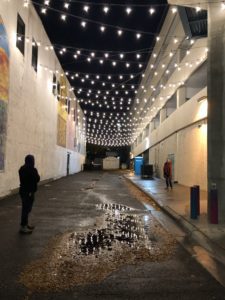 We are very excited to see phase one complete. It's energizing to see how striking the results of just this first phase is.  Our organization has been working toward activating this pocket park idea many, many years. The pocket park, once complete, will serve as a comfortable and safe community gathering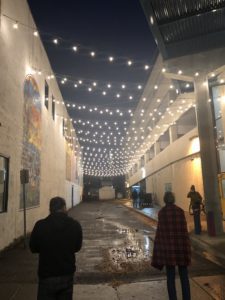 space. The multi-phase project is a dark space activation of an overlooked space. The intent of an activation like this is more than just creating and attractive space for community, it's also great for overall public safety, as it brings more eyes and desired activity on a once easy to overlook alley.
The photos don't do the newly installed lights justice, go visit this alley after dark sometime to see what an impact the lights alone make.
The full vision for the park includes, modular seating, sustainable plantings, some visual and public art elements, and the second location of Downtown's newest Light Bike (additional Light Bikes and a Downtown Light Bike Trail map will be coming 2021). We look forward to future phases of the project and sharing them with you as they change from a concept and plan and become reality.
Special thanks to the owners of the Hedden Empire building for being such a great neighbor and allowing the BID to anchor these lights to their building.
Thanks to all the businesses, donors, and partners who have helped us get this far:
Adjacent Property Owners: Hedden Empire Building
Adjacent Property Owners: Peter Yegen Jr. Inc Insurance & Realty
Adjacent Property Owners: Billings Parking Division
Lighting: One Source Lighting 
Electrical: Kris Archer, AEI Electric
Hardware: Northwest Industrial Supply 
Lift Rental: Titan Machinery
Installation: BID Street Team
Concept & Design: Cushing Terrell 
Big Sky Economic Development Space2Place Grant Program