We're delighted to bring the Pre-Father's Day Mini Golf event to life for the first time ever. This event is scheduled to take place on Saturday, June 12, 2021 at numerous locations throughout downtown Billings. We coordinated this event in partnership with the Montana Brewing Company, Hooligans Sports Bar, and Peter Yegan Jr. Inc. 
We know this will be a fun, memorable event for friends to spend a day downtown together but it was our goal to make this an event that will also be fun for families with younger kids too.
"There are some participating locations who are excited to get creative with their putting greens and we cannot wait to see what they create and hear the laughter from the day's event on the streets downtown." said Lindsay Richardson, Events & Communications Director with the DBA. 
The 'How to Participate' Details
click for required event pre-registration
You can register for one of 2 tee times on Saturday June 12th; 10:30 am or 1:30 pm.

Team registration is $48.00 (as low as $8 per player) and is limited to 36 teams per tee time.
Each golfer will receive a swag bag of goodies for the day that includes individual hand sanitizer bottles donated by Rock Creek Soaps, an event golf ball, mini-pencil and event scorecard, a buy one get one drink coupon from event partner Montana Brewing Company & Hooligans Sports Bar, and more. This event has a shotgun style start, each team will be assigned a different hole to tee off at. The participating golfers are encouraged to wear comfortable walking shoes as both of the eighteen hole courses span many blocks of downtown Billings.
We provided the participating locations with the basic supplies for their putting greens but each location is responsible for the creation of their hole. We will be asking golfers to vote for their favorite hole location. The location with the most votes will win a cash prize of $150.00.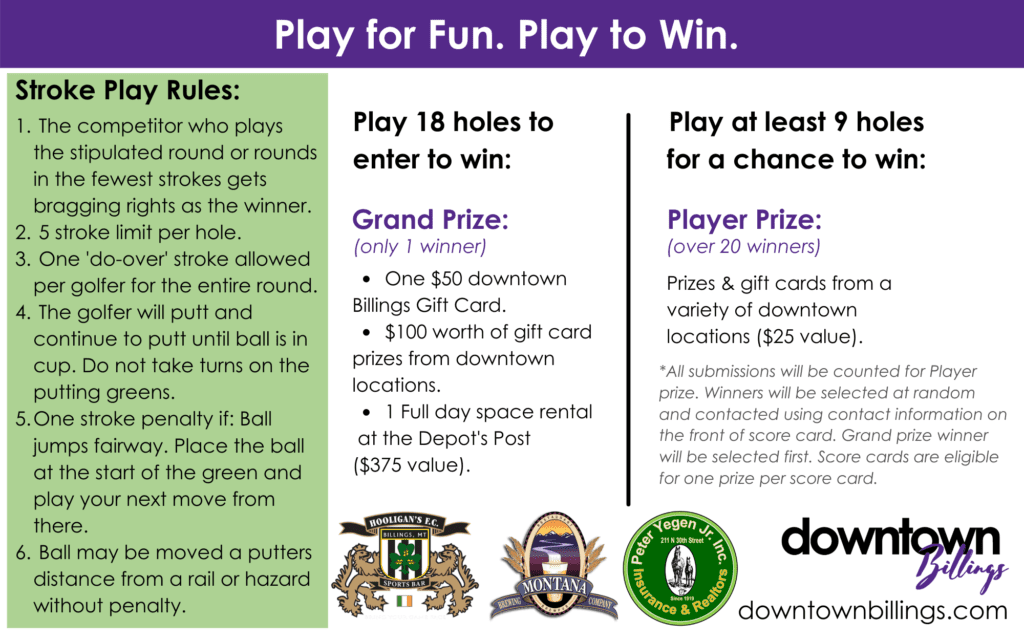 The event scorecard in each golfer's swag bag will offer up more than an opportunity to keep track of your putting skills. If you golf 9 to 18 holes you'd be remised not to drop your completed scorecards in the designated box to be located just inside Hooligans Sports Bar when you are done playing. Your completed scorecard enters you to win one of nearly forty prizes from various downtown businesses, each prize valued at $25.00 or more. Scorecards with 18 holes completed qualifies the golfer for the event's grand prize that is valued over $525.00.
---
The 36 participating downtown locations Listed Alphabetically:
Annex/Fieldhouse
Aspinwall
BarMT
Big Dipper Ice Cream
Big Sky Economic Development Agency
Billings Community Foundation
Billings Family YMCA
Campfire Coffee
Downtown Billings Alliance
GIA (Gratitude in Action)
Global Village Fair Trade
Hooligans Sport Bar
Junior League of Billings
Kirk's Grocery
Legacy Coffee/ MoAv
Lil' Market Grocers
Montagues Jewelers
Montana Brewing Company
Montana Vintage Clothing
Peter Yegan Jr, Inc
Real Deals
Rock Creek Coffee
Sandstone Gallery
SomethingChic
St. Johns @ Gainan's Commons
The Northern Hotel
The Post @ The Depot
The Produce Depot
Thirsty Street Brewing Co. @ Taproom
This House of Books
Toad N Willow
Top Tier Disc Golf
Toucan Gallery
Uberbrew
Western Heritage Center
Yellowstone Valley Skating Center