GoUnite Billings offers completely planned events to bring people together who like to get out, try something new, meet new people, reconnect with old friends and really experience all billings has to offer! During this difficult time of social distancing they kept thinking outside the box to help support local businesses make events available to the billings community.
Below are three of their virtual events you can participate in today or any time that include a number of locally owned downtown businesses.

Landmark Scavenger Hunt Kit
Get your household out of the house safely for 2-4 hours and enjoy a historical scavenger hunt drive solving riddles, puzzles and exploring the area! Make it a full-on, all day activity and grab food to-go with a meal vouchers to Stacked| a Montana Grill and an ice cream voucher to Big Dipper Ice Cream OR beer voucher to Bar MT included! *Option is also available to purchase only the Scavenger Hunt without vouchers*
This scavenger hunt takes you to remote historical sites where you can learn some local history, take a walk, and still keep your 6-foot distance from others and not have to touch anything.
---

To Hunt An Art Thief – Digital Mystery Game
There is an art thief on the loose and the agency needs your help in finding him! Get your household or a friend or two together to follow clues and solve puzzles to uncover the truth in this digital mystery game! Available to start at any time!
GoUnite partnered up with The Grand Escape Room & Liberty & Vine Country Store to put together everything you need for a fun game night in, complete with an exciting mystery game and a full basket of game night munchies and unique Made In Montana goodies.
---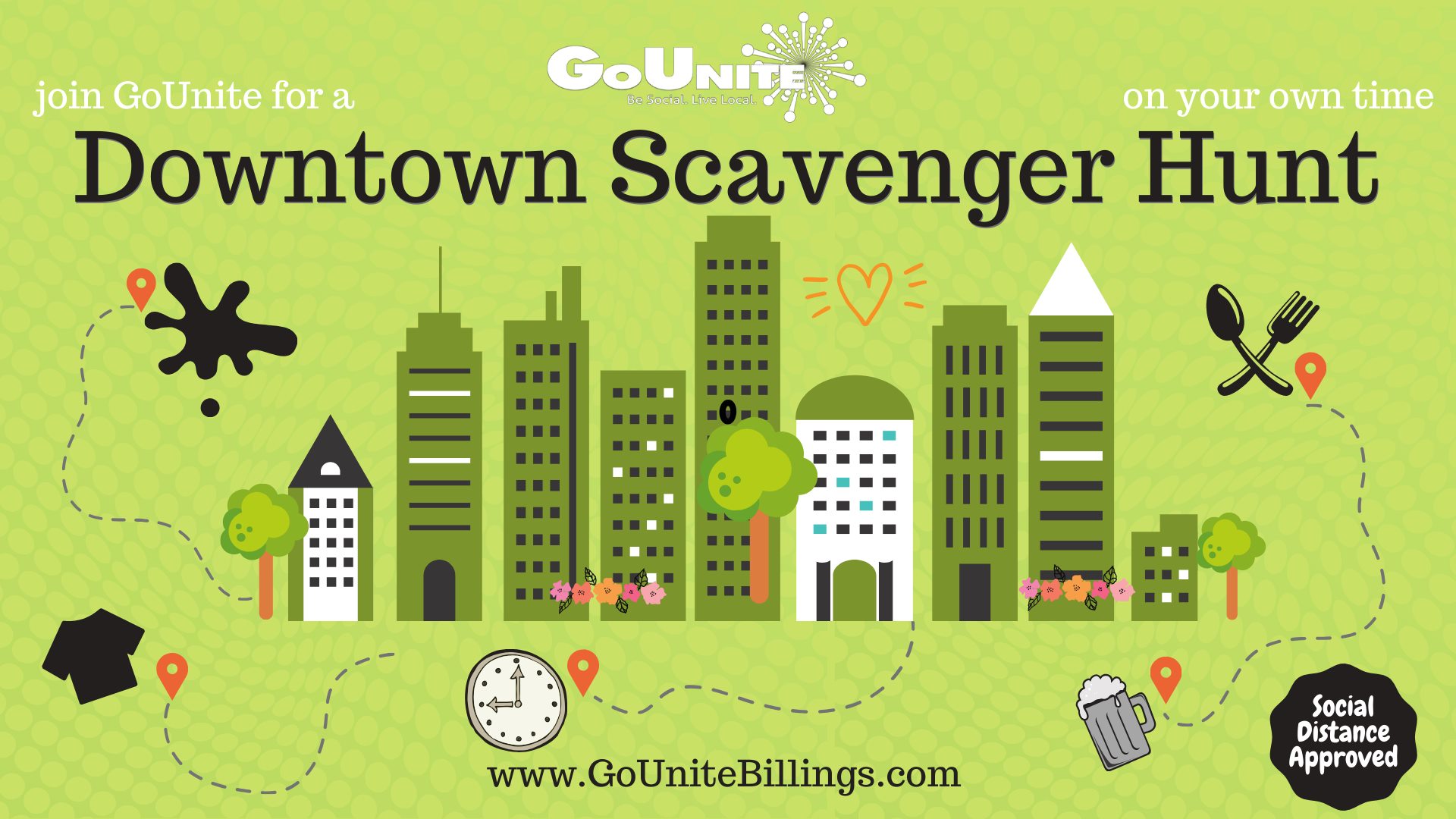 GoUnite is encouraging you to get out and enjoy Downtown Billings with a Scavenger Hunt! On your journey, you will solve puzzles, riddles, and clues in order to locate your final destination, all while visiting local businesses downtown. (Apps, dinner, dessert, drinks…oh my!) Take an afternoon or evening, put on your walking shoes, and go explore our great downtown!
Downtown Scavenger Hunt available to purchase with & without the voucher/coupon booklet which has the free meals, drinks, and retail coupons to 12 different stops along the way! Over $60 worth of free items in voucher booklet & many retail discounts.