Featured Article:
---
June 16, 2021
by Western Heritage Center
The Western Heritage Center would like to invite you to visit a ground-breaking new exhibit, "Baá Hawassiio & Ènomóhtåhéseh: Healthcare on the Crow & Northern Cheyenne Reservations."  The exhibit delves into the challenges and tragedies that occurred during the early days of the reservation system, including the outlawing of traditional healing and non-consensual sterilizations.
However, it also highlights how both Northern Cheyenne and Crow people demanded better conditions.  Advocates like public health leader and Crow citizen, Susie Yellowtail, RN, and Tribal Judge Marie Sanchez, as well as modern activists and professionals from these communities, continue to improve the tribal health care system in a myriad of ways.
Baá Hawassiio & Ènomóhtåhéseh: Healthcare on the Crow & Northern Cheyenne Reservations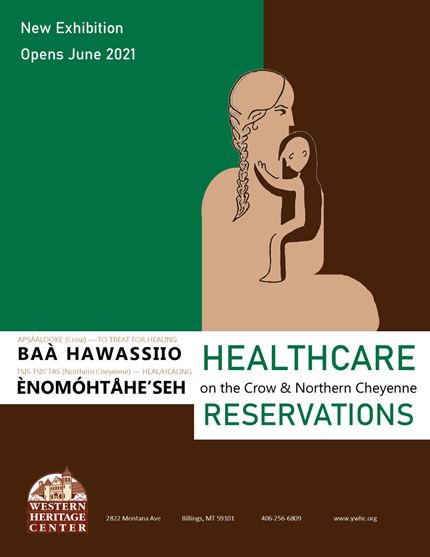 June 11—December 30, 2021
Exhibit highlights include a discussion of healthcare as assimilation, the impact of poor sanitation policies, and the effect of unethical sterilization policies. There is also hope in the inspirational stories of people demanding better, including two women who became "healthcare heroes" of their tribal communities, Susie Walking Bear Yellowtail, RN, of the Crow Nation, and Northern Cheyenne Tribal Judge, Marie Sanchez.  The library of research created by the American Indian Tribal Histories Project team was instrumental to this research.
In January 2022, this exhibit will be available as a traveling display.  Contact archives@ywhc.org for more information.  Fees are waived for schools and universities.
The Western Heritage Center is open Tues-Sat, 10 am—5 pm.  Admission is $5 for adults, $3 seniors/students, $1 children under 12.  The ADA accessible entrance is on the ground floor of the building, on the west side, and stairless access to all public areas is provided.  For more details about the WHC or its many programs, please visit www.ywhc.org.