Featured Article:
---
April 3, 2023
The Hive is back and better than ever! On April 12th, 10:30 am at the Petro Theatre at Montana State University -Billings (1500 University Drive), eight local high school students will showcase their entrepreneurial skills and compete for real money to kickstart their businesses.
Hosted by Valley Credit Union, The Hive will feature students from Senior, Skyview, and West, as well as the Career Center who have spent the semester learning about entrepreneurship, starting businesses, creating business plans, and selling their products at pop-up events. They are now ready to pitch their ideas to a panel of local businesspeople.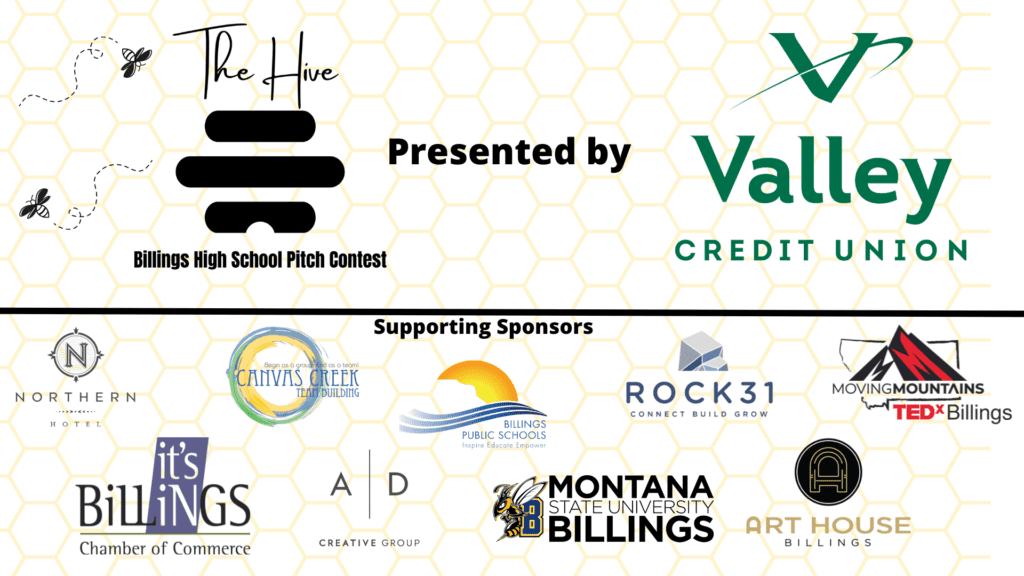 Valley Credit Union will award $5,000 to the first prize winner to assist with startup costs, while Northern Hotel will award $1,500 and $1,000 to the second and third prize finishers, respectively. In addition, TEDxBillings will award $500 to the People's Choice winner, so be sure to attend and vote for your favorite pitch!
"Valley Credit Union wants to get behind our local high school students who are interested in running their own business one day. We love the opportunity to turn that dream into reality by awarding the winning business a cash prize, and we're excited this event is returning for a 2nd year."

Brandon Scala, Valley's SVP of Business Development
The winners will also receive mentoring from the Billings Chamber of Commerce and Rock 31, plus advertising help from AD Creative.
Come and support our future entrepreneurs and witness the innovation and creativity of our local high school students. The Hive is made possible by Northern Hotel, Billings Chamber of Commerce, AD Creative, Art House Billings, Billings Public Schools, Rock 31, Montana State University Billings, Canvas Creek Team Building, and TEDxBillings.
Mark your calendars and don't miss out on this exciting event!
---
About Valley Credit Union
Since 1949, Valley Credit Union has proudly served citizens within its communities, which now includes 30 counties across Montana and Wyoming. From the beginning, the credit union was founded on the promise to provide accommodating, personalized service, as well as top-notch financial services to its members. Those founding principles are the same driving force that still directs its mission today.
For more information about Valley Credit Union, visit www.valleyfcu.com.