Featured Article
---
June 22, 2022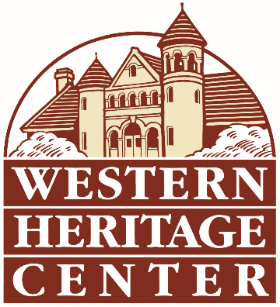 The Western Heritage Center is proud to announce two free High Noon lectures this week, both are open to all who are interested.  On Thursday, June 23, from 12-1 pm, the WHC will join in local celebrations of Pollinators Week with "Bumblebees & Public Lands," by BLM Wildlife Biologist Rebecca Newton.  This event is co-sponsored by the Montana Beekeepers Association.  On Saturday, June 25, also 12-1 pm, the WHC will host author Hugh Grinnell's presentation, "George Bird Grinnell: The Father of Glacier Park, Discoveries and Explorations in His Own Words." Grinnell is distantly related to GB Grinnell, and will deliver the program as a historical performance. This program is sponsored by the Jensen Foundation.
In addition, those seeking an in-depth look at Billings history may want to consider this week's walking tours.  On Thursday, June 23, from 6-7:30 pm, Community Historian Lauren Hunley will guide guests through one of the WHC's most popular tours, "Bars, Brothels, and Bok Choy," which focuses on historic Minnesota Avenue, formerly the "red light district."  On Friday, June 24, from 10-11:30 am, Hunley will lead visitors through the "Moss Mansion Neighborhood" and its incredible historic architecture.  Walking tour tickets are $10 or less, include admission to the WHC museum, and may be purchased online (https://www.ywhc.org/museum-programs/historic-walking-tours/) or by calling 406-256-6809.  Meeting places for each tour are listed.  (Our Community Historian, Lauren Hunley tells me that both tours are filling up quickly – make sure your reserve your spot ASAP!)
The Western Heritage Center also welcomes guests to explore current exhibits: "Avis Marvelous," featuring historic ornithological lithographs (by John Audubon and other artists) and taxidermy of native local birds; "Sewn Together," an eye-opening overview of Billings history told through fashion and functional uniforms; "Conquering Diseases of the Past," which focuses on past regional epidemics, such as polio and smallpox, and a traveling exhibit from Carter County Museum, "Shots Heard 'Round the World," which examines the work and impact of Maurice Hilleman, PhD, originally from Miles City, MT.  There are also several interactive activities and a children's drawing table.
For those who cannot attend the High Noon lectures in person, programs also will be broadcast through Facebook Live on the WHC page (https://www.facebook.com/WesternHeritageCenter/).  The WHC is located on 2822 Montana Avenue, and is open Tues-Sat, 10 am – 5 pm, with admission fees of $5 or less.  A ground floor, ADA-accessible entrance is located on the west side of the main entry stairs.  The WHC now offers free admission for SNAP recipients through Museums for All, and free admission for active military & families through Blue Star Museums. Information on other discounts, accessibility, exhibits, and upcoming programs can be found at www.ywhc.org or by calling the WHC at (406) 256-6809.