For this year's Giving Tuesday, Gratitude in Action (GIA) is promoting a "Give a Latte"
The campaign that will run from November 17 to December 1
Their goal is to raise $10,000 for the Gratitude in Action Foundation by encouraging donors to "Give a Latte" and donate to us the cost of a latte.
By donating as little as $5 and encouraging 5 people to donate $5, you will help make an impact in advancing their mission.
Donations raised through "Give a Latte" will go towards promoting recovery and helping residents in Ignatia's House. To participate in GIA's Giving Tuesday campaign, you can donate through our website or text GIVE to 406-991-1818.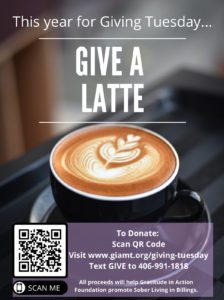 ---
The Gratitude in Action Foundation's Mission is to promote recovery and sober living by creating a community that empowers men and women the opportunity to become self-supporting. GIA strives to
help alleviate poverty and improve the lives of families and individuals within our community by providing an affordable place to shop with high quality gently used clothing, furniture, home décor, books, and housewares. They provide a step up out of homelessness by providing clothing and job skills to men and women in early recovery.
Gratitude in Action supports and funds Ignatia's House, which is committed to providing a safe, well-structured living environment as an effective transition program from active alcoholism and chemical
dependency. We offer a place to feel human again, establish a disciplined life, regain and maintain a strong program of sobriety and recovery, while experiencing the relational support necessary to sustain a sober existence. Our hope is that no one will ever be denied a safe place to recover because they are unable to afford it.