Late in 1998, the members of the Downtown Billings Partnership, Inc. (DBP) celebrated with the property owners on Montana Avenue to mark the completion of the Montana Avenue Streetscape Project. It didn't take long before the DBP began the process leading to a pedestrian friendly renovation of North Broadway. By the end of 2000, the DBP began seeking support for a plan that would include a "defining element" to be located at the intersection of N. Broadway and 2nd Ave. North….marking the very center of the Magic City.
The intersection of 2nd Avenue N. and N. Broadway was established as the official gathering area for our growing city. Yellowstone Valley Farmers' Market had just established that footprint for their summer Saturday market, Strawberry Festival was only a few years old, and the Downtown Billings Association was developing plans for using that space for new and vibrant gatherings as described in the Downtown Billings Framework, an urban renewal vision plan completed in 1997-98.
The North Broadway Streetscape was slated as the first project of the vision plan implementation phase. The DBP cast the net towards local architects and challenged them to submit their ideas and concepts regarding the defining element.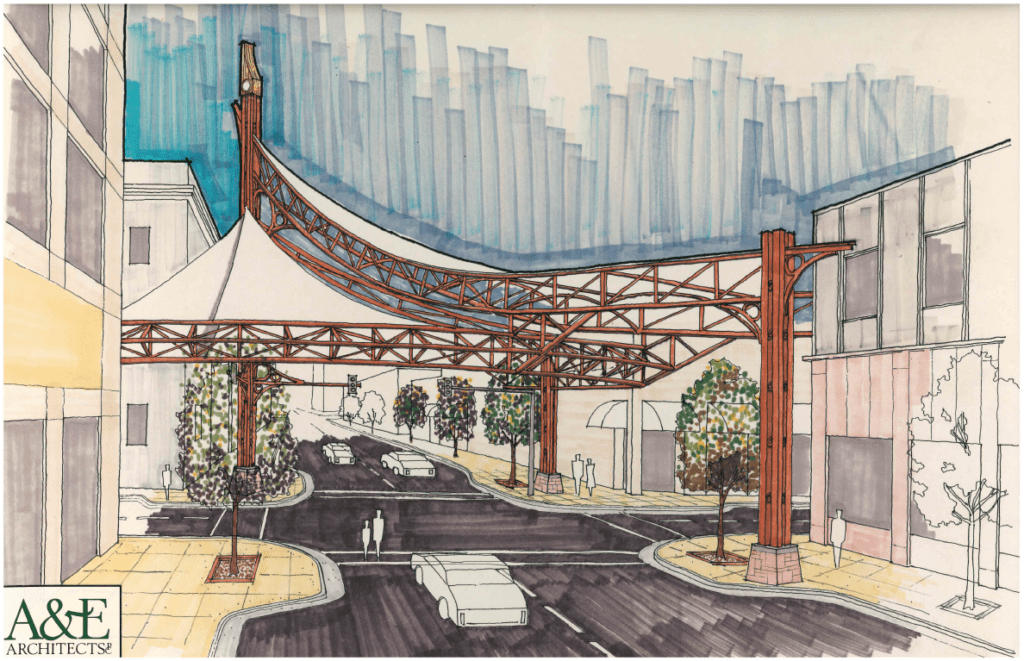 the initial rendering from A&E Architects.
Beaconing Rim, the original name of Skypoint, was submitted by A&E Architects as the Defining Element Competition winner. This important downtown feature was dedicated as "Skypoint" on May 31, 2002 by Mayor Chuck Tooley.