Kip Moore to headline the Downtown Summer Sounds 3 outdoor concert on September 3rd at the Minnesota Ave. Skate Park parking lot.
Our team and the Pub Station Presents team are thrilled to announce the summer's third 2022 Downtown Summer Sounds concert event featuring Multi-PLATINUM singer/songwriter Kip Moore as the headlining artist. This is a ticketed, all ages, outdoor concert in Downtown Billings on Saturday September 3rd. The Downtown Summer Sounds 3 concert will take place rain or shine in the spacious downtown Billings Skate Park parking lot, located at 24 S. 26th St.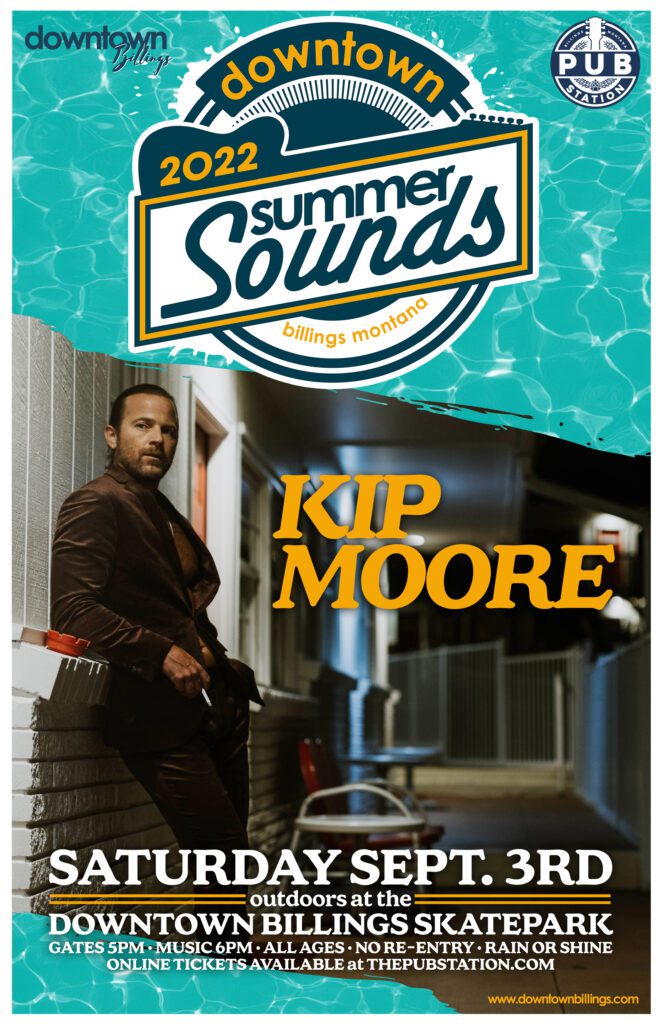 Rain or Shine
General Admission/All Ages
Doors at 5PM/Show at 6PM
$45 Advance/$50 Day of show
Tickets on sale Friday, 7/29 at 10AM
Ticket price does not include Etix service fee(s). Service fee(s) vary by purchase method and are applied at checkout.
*ONLINE ONLY presale available Thursday, 7/28 from 10AM-10PM for Pub Station & Downtown Billings' Facebook fans and email subscribers
"We are so pleased with how well the Skate Park lot turns into a really cool and urban concert space." shares Lindsay Richardson, DBA Community Engagement & Events Director. "We started the summer with one Summer Sounds concert on the calendar and an idea to make the under-utilized city owned Skate Park lot into a downtown venue. It wasn't until we all saw how incredibly well the space came together as a venue for the June 25 Koe Wetzel concert, that the Pub Station Presents team was able to secure the July 9th Milky Chance concert and this September 3rd Kip Moore show." continued Richardson.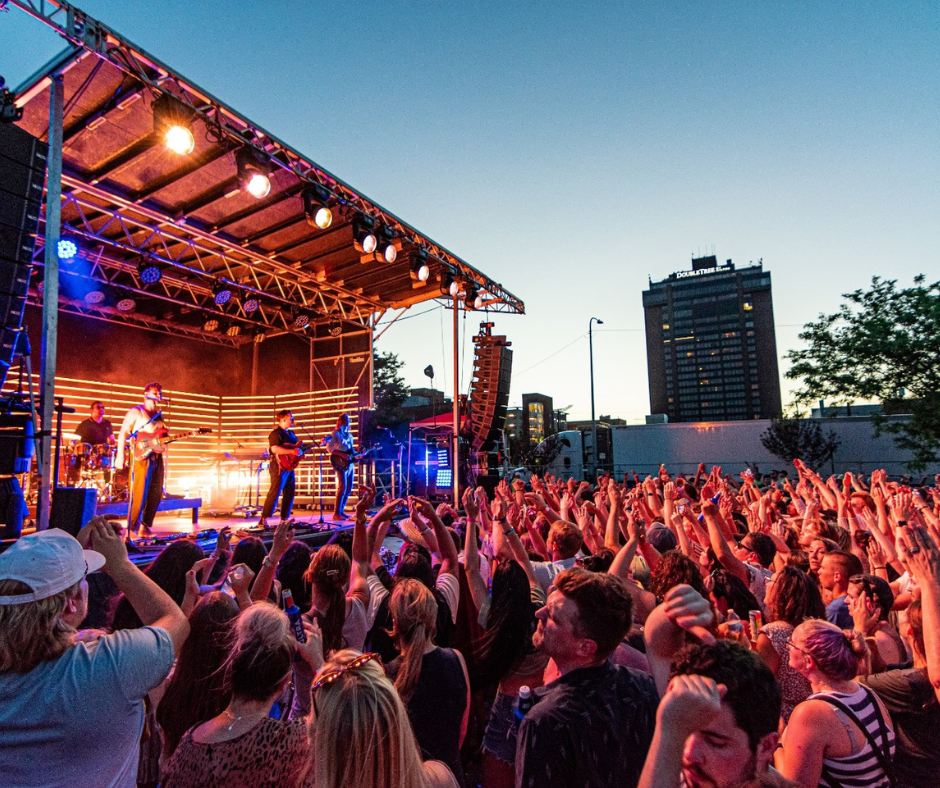 Each one of the Downtown Summer Sounds events is made possible by a partnership of efforts and resources split between the Pub Station Presents & DBA team. Fifty percent of the revenue from Downtown Summer Sounds events are given to the DBA's Downtown Business Improvement District (BID) to help fund street beautification projects like the downtown flower baskets, public art projects, along with with a number of large community events such as the recent Strawberry Festival, HarvestFest, Alive After 5, and the two parades (Holiday & St. Patrick's) coordinated by the BID.
The first Downtown Summer Sounds outdoor concert debuted in June 2019 with the Nitty Gritty Dirt Band rocking out on N. 29th Street in downtown Billings. "When we sat down with the DBA in 2019 to create Downtown Summer Sounds we imagined it becoming a multi concert event. We hope to keep using this Skate Park location along with our future outdoor amphitheater to continue Downtown Summer Sounds for years to come." shares Sean Lynch, the owner of Pub Station Presents and the Pub Station venue.
Downtown Summer Sounds 3 headlining artist Kip Moore just released his electrifying new track "Fire On Wheels." Co-written and co-produced by Moore and Jaren Johnston (The Cadillac Three), the new track is a volume-up, groove-driven anthem. With "Fire On Wheels" embodying the energy of Moore's life out on the road, he also revealed his multi-city FIRE ON WHEELS TOUR will kick off in Salt Lake City, UT on 9/8. Moore has invited special guests Boy Named Banjo to join him this fall on the trek that will see Moore bring his renowned live show to cities across the country, as well as a stop in Canada. Known as "one of country's more thoughtful artists" (Billboard), Moore has toured the world earning acclaim and a rabid fanbase as an all-in performer in each setting, consistently selling out headlining shows internationally with huge followings in The U.S, The U.K, Europe, Australia and Canada. Praised by Noisey as "an uncompromising, genre-defying artist firing on all cylinders" Moore has blazed his own trail, with "a bit more Southern rock than traditional country… to be a Kip Moore fan suddenly became a marker of your having a certain refinement in your country-music taste" (Chicago Tribune). Moore first splashed into the mainstream with the double-PLATINUM "Somethin' 'Bout a Truck" in 2012, then followed up with three more best selling number ones ("Hey Pretty Girl," "Beer Money" and "More Girls Like You"), a trio of ambitious, critically-praised albums and two gritty EPs that landed Moore on multiple "Best Of" lists. Moore recently garnered resounding acclaim for his fourth studio album, WILD WORLD. The set, co-written and co-produced by Moore, was spotlighted by critics as "especially vital; occasionally, even rare," (Esquire). For more information visit kipmoore.net, and follow Moore on Twitter, Facebook, Instagram and TikTok.
---
Event Tickets
Event tickets go on sale Friday, July 29 online at authorized ticket location etix, thepubstation.com, or the event's webpage on downtownbillings.com. Tickets are available at thepubstation.com, Pub Station Taproom (2502 First Avenue North), or by calling (919) 653-0443.