Monster Drawing Rally
March 3 @ 5:00 pm

-

8:00 pm

$5 – $10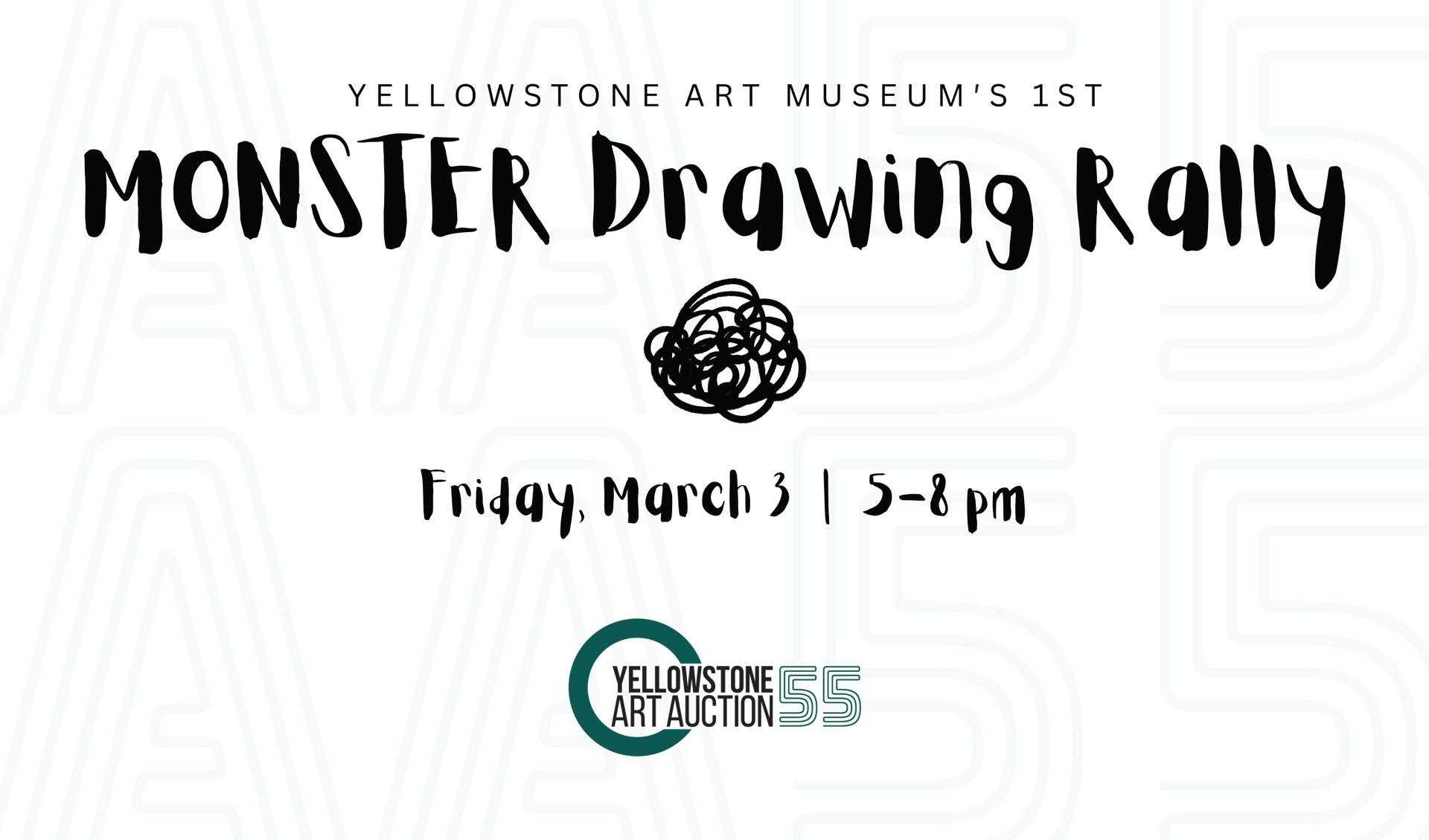 WHAT EXACTLY IS THE YAM'S MONSTER DRAWING RALLY?
Monster Drawing Rallies were initially conceived by Southern Exposure in San Francisco and have been recreated by nonprofit organizations in cities like Richmond, Brooklyn, Cleveland, Los Angeles, and now the Yellowstone Art Museum in Billings, Montana!
Part live art-making performance, part art-bazaar, part live auction, the YMDR is a fast-paced, lively fund-raising event! During a "Monster" Drawing Rally artists create artworks from start-to-finish while under a 1-hour time limit in front of a live audience, who can bid on the works once they are created. Monster Drawing Rally is a live drawing event and party that allows spectators to spy on the creative process, build relationships with local artists, and grow their art collections. Over the course of the afternoon, artists at all stages of their careers take shifts drawing and making artwork for 50 minutes. Sketches turn into finished pieces made from collage, watercolor, acrylic, graphite, and other media. Finished drawings are immediately available for purchase for $50 each. This event benefits the Yellowstone Art Museum and our goal to promote local artists by making their artwork more visible and accessible to the community.
FOOD AND DRINK
Food and beverages (including adult beverages) will be available on site for purchase, courtesy of favorite local vendors. Attendees will get to see live artmaking in action, connect with local artists, enjoy the musical stylings of our DJ, excellent food and drinks, and mingle with friends…all while supporting the local arts community!
LIVE AUCTION DURING THE ACTION
Artists will have one hour to complete an artwork from start to finish. All works will be $50. Attendees will be able to bid on works as soon as they are completed and posted on the 'available works wall'. Competing bidders will draw a card—highest card wins. Artists may create up to 3 works in the 1-hour timeframe.
ARTISTS: 
If you are interested in learning more about participating in the rally:
Come to our Artist Q&A Info Session Thursday, February 9 at 4:00 PM at the YAM in the Murdock Gallery.
If you would like to participate as an artist in the rally:
Fill out the Monster Drawing Rally 2023 Registration Form
*Artists are provided a work area, basic supplies and a chair, but are responsible for bringing their own desired alternative supplies (please let us know ahead of time if you need electricity).
ALL SUBJECTS WELCOME! 
The "monster" part refers to "a big event" not the making of monsters…although the artists are more than welcome to make monsters if they want to!
ALL MEDIUMS WELCOME! NOT LIMITED TO DRAWING. Provided the artwork can be completed in one hour and the buyer can take it home that night.
ARTIST PARTICIPATION PERKS!
4 Free Tickets for Friends and Family or Strangers
Food and Drink Vouchers
Swag Bag
Waived Application Fee for 2024 Art Auction ($35)
Undying Gratitude!!
Related Events
---
Want to add your meeting or event to the calendar?
Volunteer
We're always looking for good volunteers! If you're interested in getting involved, contact our Event Director, or sign up for our Volunteer newsletter below: