Alive After 5
July 28, 2022 @ 5:00 pm

-

8:00 pm

$2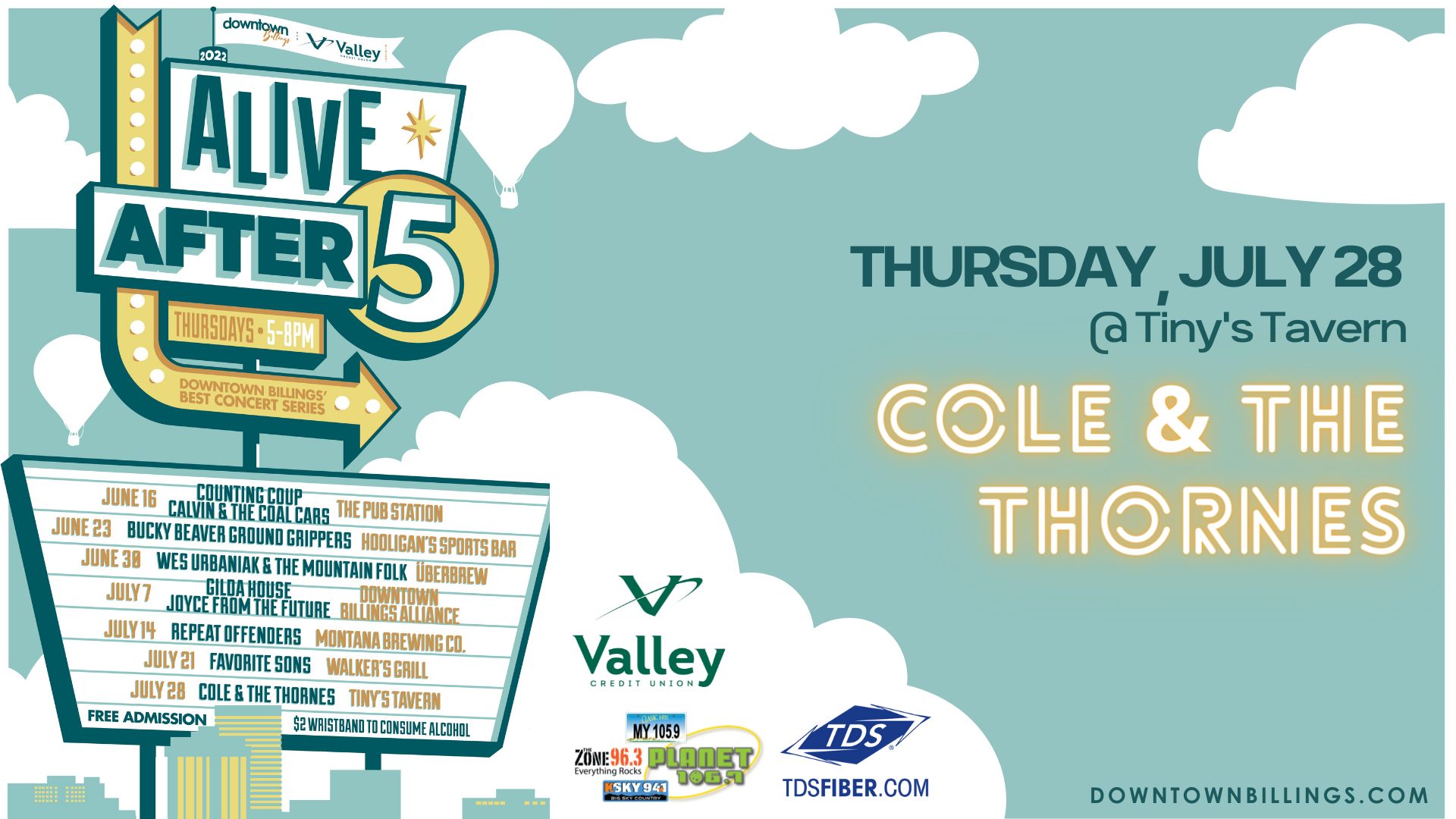 Live Music & Fun with 1500 of Your Closest Friends!
Music – Food – Drinks – Dancing – Community
Alive After 5 is Downtown's most anticipated summer concert series that runs June 16 to August 4, 2022. Each concert takes place weekly, Thursday evenings, from 5:00pm -8:00pm at a different outdoor venue in downtown Billings.
The series' entertainment line-up changes annually and ranges from local and regional favorites to nationally touring bands.
Thursday, July 28
Location: outside of Tiny's Tavern, 323 N. 24th St.
Band: Cole & the Thornes
Cole & the Thornes is a mountain reggae band based out of Bozeman, MT.
---
Admission:
Admission for Alive After 5 remains free for the public, however, 21 and older individuals wishing to consume alcohol must purchase a $2 wristband at one of the Purple tents.
The $10 V.I.P Experience:
Each concert includes a special shaded V.I.P area with chairs, tables, ice cold bottled water, and easy access to one of the event bar locations. Only Twenty-six $10 V.I.P wristbands are available each week on a first come first serve basis. To reserve your spot in the V.I.P area either visit the DBA office located at 116 N. 29th Street suite A or call (406) 294-5060, Monday – Thursday from 9:00am to 12:00pm to pre-pay and reserve your V.I.P spots.
Event Resources
All AA5 Events
June 16 – Counting Coup & Calvin and the Cole Cars @ The Pub Station
June 23 – Bucky Beaver Ground Grippers @ Hooligan's Sports Bar
June 30 – Wes Urbaniak and the Mountain Folk @ Uberbrew
July 7 – Gilda House & Joyce from the Future @ N. 29th St. and the DBA
July 14 – Repeat Offenders @ Montana Brewing Co.
July 21 – Favorite Sons @Walkers Grill
July 28 – Cole & the Thrones @ Tiny's Tavern
August 4 – W.C. Huntley & Marcedes Carroll @ McCormick Cafe
View the full downtown event calendar HERE
No dogs allowed 🙁
We know!!! We're bummed too but BUT dogs, cats, and other small animals are not allowed at Alive After 5 or any other large downtown public event. The city ordinance is for the safety of all including your dogs! AND while we don't make the rules, we totally understand the city's ordinance. Events like AA5 are loud and crowded and can be stressful for a dog. Not to mention the heat of the hot pavement being harmful.
Behind the scenes
The Downtown Billings Alliance (DBA) coordinates each of the Alive After 5 concerts from set-up to tear-down and beyond. Each concert date takes place at a "Host" location within the Business Improvement District (BID). The concert series brings over 10,000 people to downtown Billings each summer.
The Alive After 5 downtown concert series was started in 2003 by a group of downtown restaurant & property owners led by the Publisher of the Gazette. The anchoring hosts included Walkers, McCormick's, Pug Mahons, The Rex, and Montana Brewing Co and began with just 5 summer concerts around downtown. Tiny's Tavern added in as an anchoring host in 2004. Over the years, the idea grew from the initial 5 concerts a summer to, at its biggest 14 concerts, to its current state.
Most of the DBA signature events such as St. Patrick's Day festivities, Strawberry Festival, Harvest Fest, Holiday parade, Christmas Stroll, First Friday efforts, and more, are not revenue generators for the DBA, but are coordinated in efforts to bring people to downtown boosting the vitality of the downtown businesses. AA5 not only brings people downtown it is also one of the few revenue generating events thrown by the DBA. The revenue generated by the AA5 series helps sustain the coordination and facilitation of the other DBA community-centric events throughout the year.
If you would be interested in more information on hosting an Alive After 5 in the future please, contact our Event Director.
Our 2022 Season Sponsors
Composer Sponsors
Orchestra Sponsors
Chorus Sponsors
Related Events
---
Want to add your meeting or event to the calendar?
Volunteer
We're always looking for good volunteers! If you're interested in getting involved, contact our Event Director, or sign up for our Volunteer newsletter below: