The downtown area of Billings, Montana is made up of more than 18 city blocks; with new and old buildings, public art projects, retail, businesses, restaurants, bars, breweries, venues, residential properties of various kinds, and numerous historical landmarks. Check out 20 downtown Billings' most loved patios.
Visit all 20 of these unique outdoor patio spaces to enjoy the abundant downtown sights, sounds, flavors, and vibes.
---
Patios West of 27th St.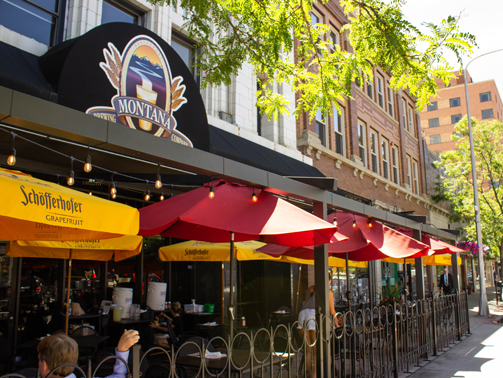 Montana Brewing Company
113 N Broadway
The Montana Brewing Company, known by locals as "The Brew Pub" is located on Downtown's most bustling block. The Brew Pub's large covered patio is open for dining starting late spring through late fall. Day or night the patio offers diners a great view of the revitalized historic Babcock Building across the street. The Babcock building is home to many residents, retail shops, and restaurants. The Brew Pub itself is located in the ground floor of the historic Montana Electric Company Building.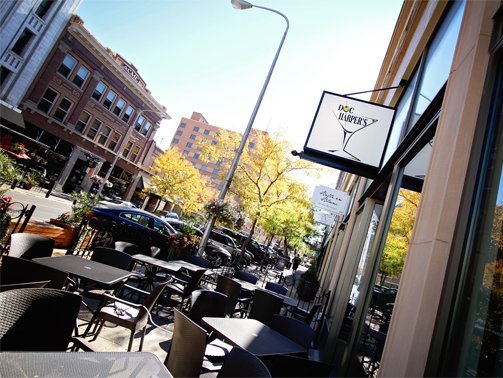 Doc Harper's Tavern
116 N Broadway
This Martini Bar is located in the downtown core inside the historic Babcock Building. In late spring through late fall, Doc Harper's expands their sidewalk to make room for their popular outdoor patio so you can enjoy your favorite cocktail under the Montana sky while taking in the historic building views and Skypoint structure nearby on Broadway.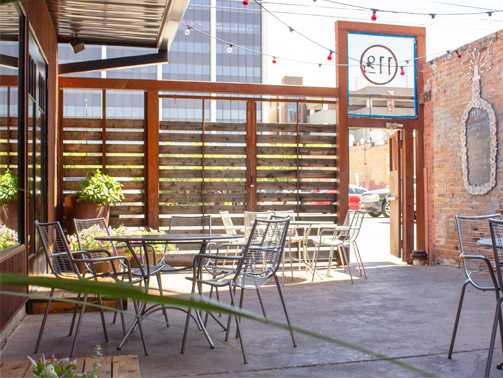 Bin 119
119 N Broadway
Bin 119's urban patio is nestled in a courtyard-esque space behind the restaurant. Bin 119's patio offers customers a quiet place to enjoy a meal and a glass of wine with friends where the hustle of downtown's streets feels far off in the distance.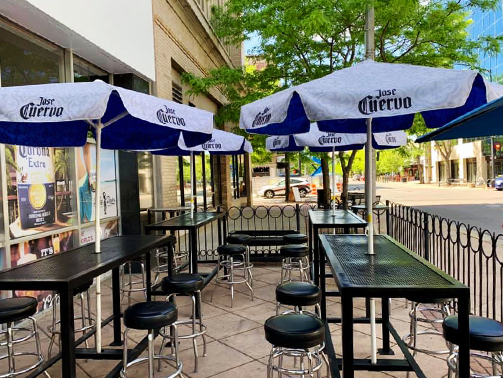 Daisy Dukes Saloon & Dance Hall
222 N Broadway
If you are looking for a night of music, drinks and maybe some dancing Daisy Dukes is a place you should check out. Their front patio offers up high-top tables for you to catch some fresh air and conversation. The location provides you with an urban downtown feel as this patio is located right in the heart of downtown Billings.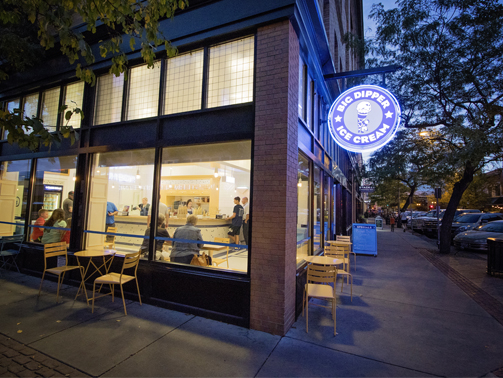 Big Dipper Ice Cream
100 N Broadway
It's hard to beat the good vibes you get when sitting on the corner patio out in front of Big Dipper Ice Cream with a delicious treat in hand. The outdoor seating offers you a chance to take in the architecture of the historic buildings and a chance to say a friendly "hi" to walkerbys.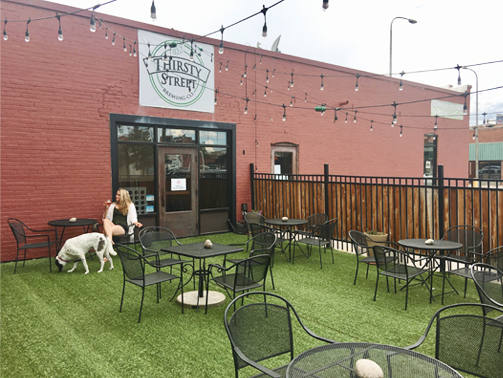 Thirsty Street Brewing Company @ The Taproom
3008 1st Ave N
The taproom's sunny fenced patio with artificial turf grass-makes for a cozy and cool spot to meet up with friends and family to enjoy a cold beverage and nice views of downtown. The taproom serves up 16 in-house brews, sours, and other options like seltzer, cider, and wine.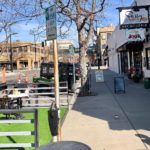 Sassy Biscuit
115 N 29th St.
At the Sassy Biscuit Co., we believe in nothing but the best, it's not just food it's an experience. Come in, pull up a chair and savor scratch-made goodness and become part of the family.
The new Sassy Biscuit patio will be open from late spring to late fall which will allow even more space to enjoy the Southern style fare.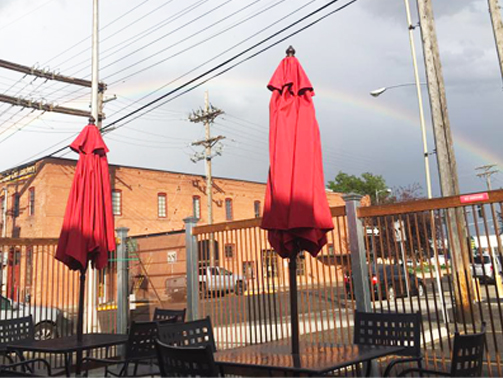 Angry Hanks Microbrewery
20 N 30th St
Angry Hanks Microbrewery is located inside a former 1916 carriage house that sat vacant for many years. This location allows this brewery to do everything from the milling to the packaging in-house. Their sunny side patio makes a great extension of their bright indoor space. Angry Hanks is a favorite after 4 pm social meeting destination all week long.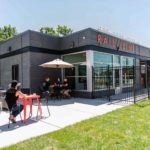 Rail Line Coffee
104 S 29th Street
A redemptive coffee house. One cup at a time, offering people a way out of poverty by providing job skills training & leadership development for individuals on the South Side of Billings. This patio features outdoor seating, lush grass, and is pet friendly!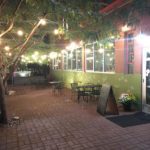 Ebon Coffee Collective
2712 2nd Ave
Located inside the Wise Wonders Children's Museum, Ebon Coffee Collective is a hub for rad people to collaborate, pushing the edge for both coffee quality and socially responsible operations.
Ebon's open patio is a great place to taste some of the best coffees from Montana roasters, famous home-made pastries, great conversation, and enjoy a quiet downtown Billings moment.
---
Patios East of 27th St.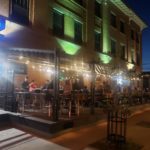 Craft Local
2501 Montana Ave
If you're interested in live, local music Craft local is the spot for you! Craft Local is a non-profit that provides artists with the space to show their works, musicians the space to charm their audiences, and a one of a kind bar to quench your thirst with some of the best local brews and wines around.
The patio at Craft Local spans half of a downtown block and sits on the corner of the historic Montana Ave and N. 25th St. The sounds of live music from both inside Craft Local and their neighbor, the Pub Station, makes for a great warm weather evening activity.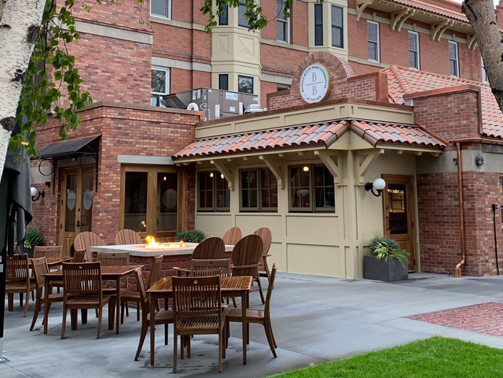 Buffalo Block
2401 Montana Ave
Buffalo Block offers a cozy outdoor patio dining option with plenty of green trees to keep the patio perfect even on the warmest summer days. Their large round outdoor fire pit makes their patio a great destination nearly all year. Located right in the middle of Downtown's Historic Montana Avenue surrounded by many historic buildings like the Historic Billings Depot and the Rex Hotel that the restaurant occupies the ground floor of. Photography via @mclovin1019 on Instagram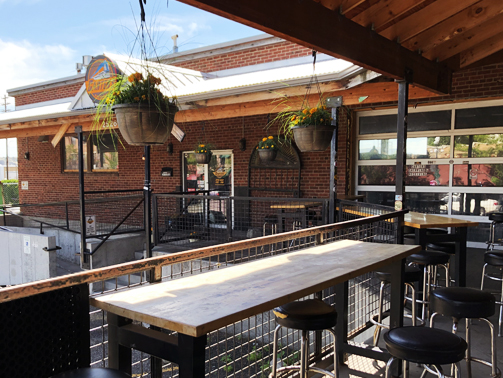 Carter's Brewing
2526 Montana Ave
The Carter's Brewing patio serves up plenty of shade during the summer months. You can pick from 25 different beers all while overlooking Historic Montana Avenue surrounded by many local restaurants, retail shops, offices, venues, and more. Locals and visitors alike enjoy the casual brewery vibes that make this such a great spot to meet up with friends and drink a cold beer after a long workday.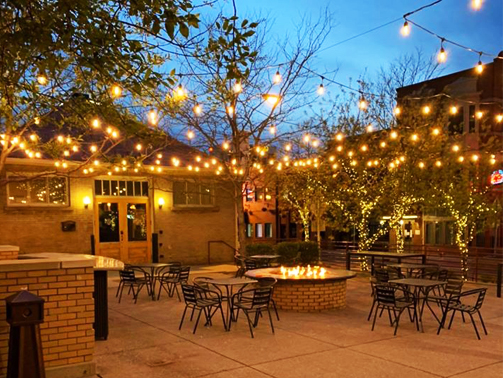 Bar MT
2314 Montana Ave
Located on the Billings Depot's campus, this patio has plenty of charm and space for you to enjoy a relaxing outdoor moment. Enjoy a beverage while taking in the historic buildings and hops fence that surrounds this patio. The trees and large gas fire pit make this a good destination on good weather days year-round.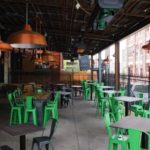 Last Chance Pub & Cider Mill
2203 Montana Ave
If you are looking for a patio with ultimate urban vibes look no further than Last Chance's back patio. This patio was revamped in 2020/2021 and now features even more seating, heaters, fans, and is covered! It overlooks an alleyway shared with a local Cushing Terrell Architect firm's stunning urban office building. Located on the far eastern end of Montana Ave in downtown's historic district, this spacious patio is located in the back of the brick warehouse building that now houses Last Chance, Ohana: The Poke Company, office space, and a distillery.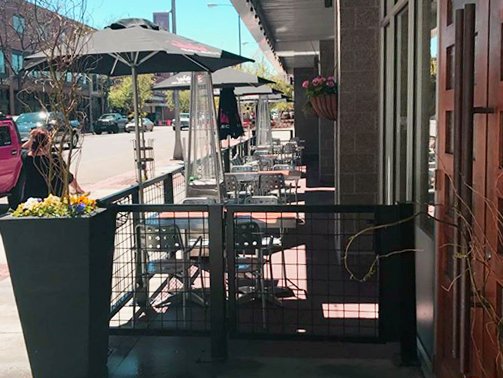 Wild Ginger
2713 Montana Ave
This street side patio in the downtown historic district provides diners plenty to take in. The large umbrellas offer plenty of shade for day time dining and when the sun goes down the patio provides a perfect spot for dinner, music, and cocktails during a night out in Montana's largest City.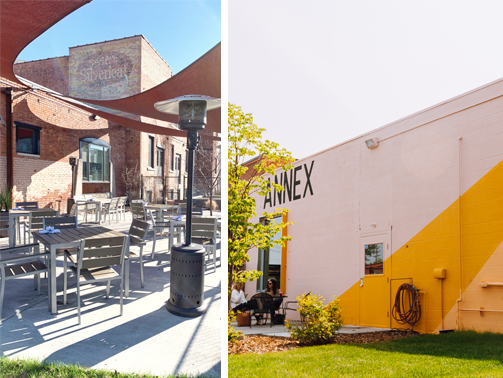 The Fieldhouse & The Annex Coffeehouse & Bakery
2601 Minnesota Ave
These two conjoined patios are so inviting for the whole family. The patios include shaded and sunny dining areas, a cheerful lawn, kids play area, a small local produce garden, and an upfront view of the active Northern Pacific train tracks and historic buildings across the tracks on Montana Avenue.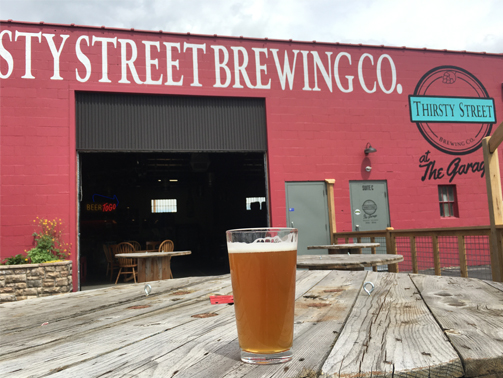 Thirsty Street Brewing Company @ The Garage
2123 1st Ave N
The Garage's spacious patio is connected seamlessly to the indoor space by the opening of a large garage door. This patio is a great spot to enjoy live local music on Friday and Saturday evenings. The downtown views and cold brews make this patio a perfect happy hour location or weekend destination.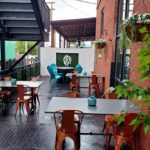 Ohana: The Poke Company
2223 Montana Ave Suite #104
The Ohana Poke Company serves healthy, creative variations of poke sushi bowls. The Ohana Poke Company marries the fast, casual bowl concept with fresh, healthy, superior-quality ingredients in an environmentally conscious atmosphere.
Ohana's patio features two decks with lots of outdoor dining options as well as lounge chairs. It overlooks an alleyway shared with a local Cushing Terrell Architect firm's stunning urban office building as well as Last Chance's brand new patio. Located on the far eastern end of Montana Ave in downtown's historic district, this spacious patio is located in the back of the brick warehouse building that now houses Last Chance, office space, and a distillery.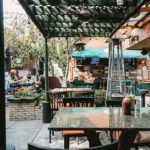 323 N 24th St
Tiny's Tavern's tagline is 'Billings place to have fun' and it's easy to do on their comfortable shaded back patio. Their patio offers up a casual place to spend some social time with your favorite people and includes an outdoor bar, food service, a stage where you often can catch live music, and outdoor tv's to watch a big game.