On Monday, October 17th, the three full-time members of our Billings' Business Improvement District (BID) Team, Joe Stout, James Chandler, and Adam Robeling, ventured together out of downtown to deliver a sixty-five gallon, battery powered, water trailer to the staff at ZooMontana. The BID Team, often known as downtown's Purple People, custom built the trailer specifically for the BID and Downtown Billings Alliance (DBA) to donate to ZOO MT.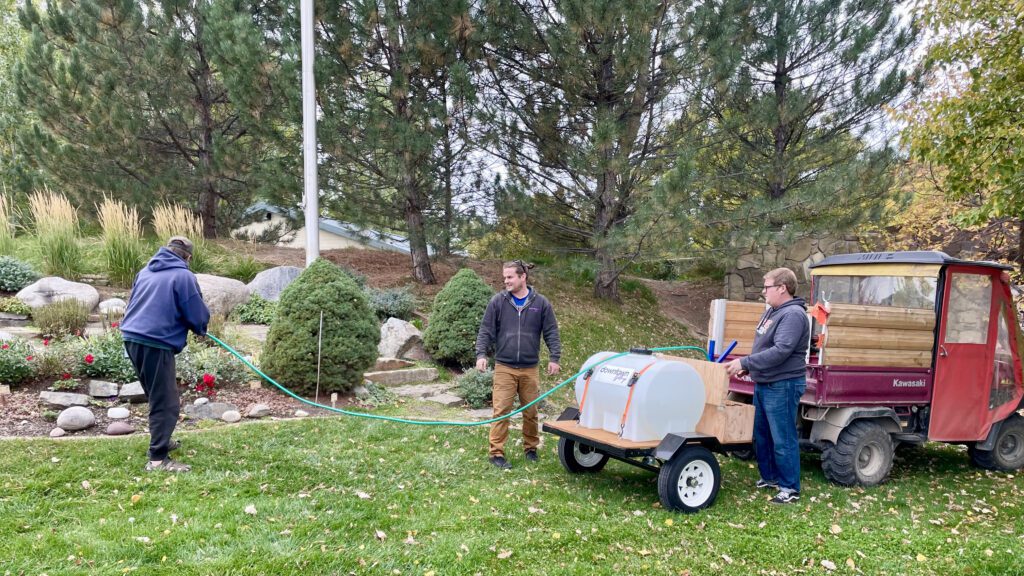 The trailer took the team about three months to build. "We had to order and wait for specific parts to come in." Shared our BID Operations Director, Joe Stout. This custom water trailer is just one of three in Billings, all of which have been built by our team in the BID. The team has learned a lot over the three trailer builds and say the one they just delivered is the best one yet. "We're slightly envious of ZOO MT." laughed BID Team member & DBA Associate Development Director, James Chandler.
The bid team
The BID Team is the most visible piece of the Clean and Safe programs funded by the BID.
CEO, Katy Easton shares: "We do a lot of things really, really well downtown, but one thing we do especially well is water our flower baskets! The ingenuity of our BID Team and the contraptions they dream up and build are the main reason why! "
In the summer months the BID Team uses their water trailers to water the 185 downtown flower baskets within the Business Improvement District's 8 mile Clean boundary; A task that takes about 150 gallons of water a day. 
The value of teamwork
Both the DBA and ZOO MT are local non-profit organizations and members of the Billings Cultural Partners (BCP). The mission of the BCP group is to strengthen each of our organizations, enhance our effectiveness through the power of collaboration, and contribute to the quality of life in Billings.
During a team visit to ZOO MT in June, members our downtown team learned that only some of the ZOO MT exhibits have underground irrigation. The parts of the 70 acre zoo that don't have underground irrigation need to be watered manually.  Our team jumped at the opportunity to give ZOO MT one of our favorite downtown tools to help them care for their awesome facility.
"The trailer will allow us to water all of the nooks and crannies here at Zoo Montana. We have a lot of potted plants and trees including the new one we just planted that will be kept healthier year round with the help of this trailer." shared Travis Goebel, ZooMontana's Animal Curator. Timing of the trailer's delivery works out perfectly for the zoo team. "The trailer will get a lot of use now that it's time for the irrigation to be shut off for the winter. Plus we intend to use it a lot in our greenhouse too." continues Goebel.