Parade, Celtic Fair & Street Party Activities & Entertainment 
Don't miss an ounce of fun at the Annual Downtown Billings St. Patrick's Day Celebration on Saturday, March 18th presented by our team and Hooligan's Sports Bar. The day's festivities are free and open to the public from 10:00 am to 3:00 pm. The celebration includes the Celtic Fair, Street Party, and the 40th Annual St. Patrick's Day Parade. 

The Celtic Fair begins at 10:00 am and includes craft vendors, face painting, balloon art, food trucks, live entertainment, and more. The parade and Street Party kick off at 11:00 am. Each parade entry is created by individual local businesses, organizations, and community groups wanting to be part of the joyful Celebration.
THE PARADE
This year's parade line-up has over forty-five parade entries with the Eugene Sara Detachment, United States Marine Corp League setting the pace at the very front of the parade as honor guard. The team from Tiny's Tavern are celebrating their 40th anniversary this year so our team invited them to celebrate in style as the parade's Grand Marshal entry.  "I think everyone will be quite impressed with our float." Shared Curt Grimm, owner of Tiny's Tavern.                      
Judging the parade floats from Skypoint this year will be team members from our St. Patrick's Day Event sponsors: The Zone 96.3, Planet 106.7, & Classic Hits, My 105.9 (Desert Media Broadcasting), TDS Fiber, Valley Credit Union, and B-Town Vapes & Glass. The judging categories include: Best Entry Overall, Best Float, Best Musical Entry, Best Costume, Best Representation of the Holiday, Best Performers, and Most Original Entry. The 2022 Best Entry Overall award went to the Optimist Clubs of Lockwood & Billings heights pictured below.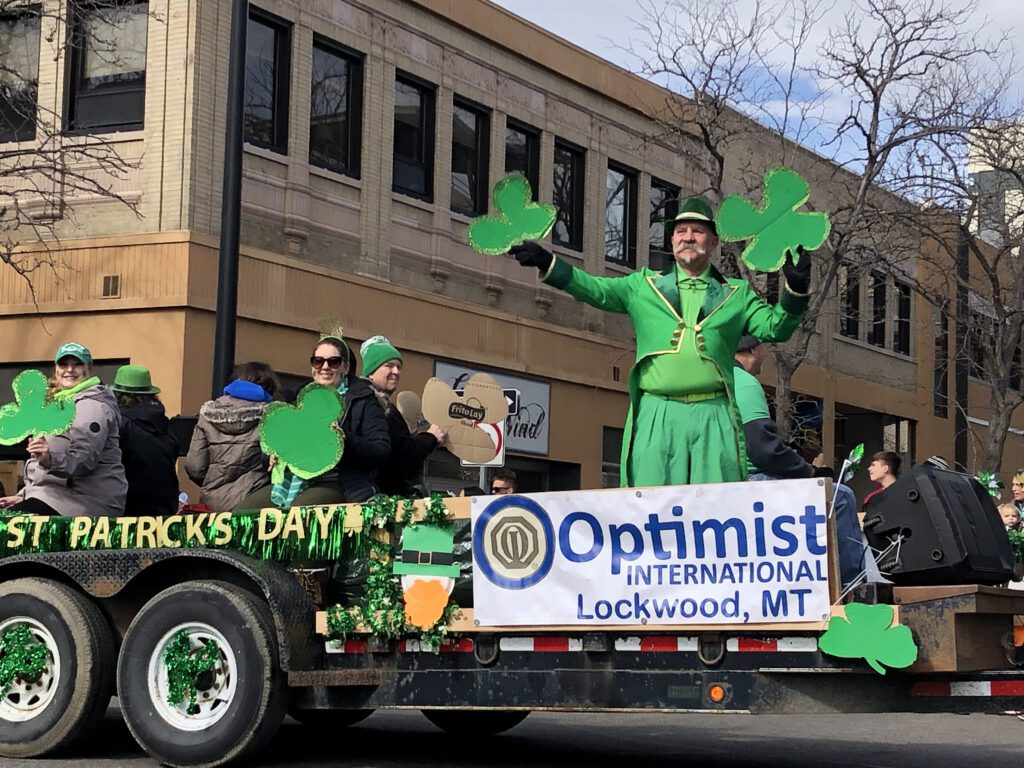 PARADE SAFETY MESSAGE
As a non-profit organization who advocates for a vibrant and thriving downtown through community events like this parade, clean and safe programs, and economic development projects we would like to remind you that this is a free community event and public safety is our number one priority.
Any and all handouts (candy or otherwise) will take place from the sidewalks behind the crowd and not from the parade route itself. Parade entries will not be passing out candy from the parade route in compliance with the DBA's parade safety policy. Please visit the event webpage and read the full Parade Safety message for details and clarification of this policy.
POST PARADE ACTIVITIES
The day's festivities continue at Skypoint after the conclusion of the parade; Live entertainment at the Celtic Fair stage begins at noon with the Irish dancers from the Claddagh Irish Dance Academy followed by Celtic musicians from the Slainte Traditional Irish Music Session at 1:00 pm. Additionally, at noon N. Broadway will come alive with a concert at the Hooligan's Street Party stage from local rock band Repeat Offenders. At the Street Party the Hooligan's team pours their Hooligan's Irish Red brew along with green beer while also serving Corn beef and Cabbage on special inside both Hooligans Sports Bar and Montana Brewing Company. 
To add to the fun, there are a number of post-parade vendors and activities for all ages that will pop-up into the Celtic Fair once the 11:00 am parade concludes. Each of the post-parade activities are free for all ages to enjoy and take place from 1:00 pm to 3:00 pm: