30 Days of Downtown Eats is back for its third year.
The entire month of November we'll be talking about food on our facebook & Instagram pages. We'll share fun facts about the participating downtown restaurants and we hope it inspires you to add some if not all of these locally owned restaurants to your regular meal plans.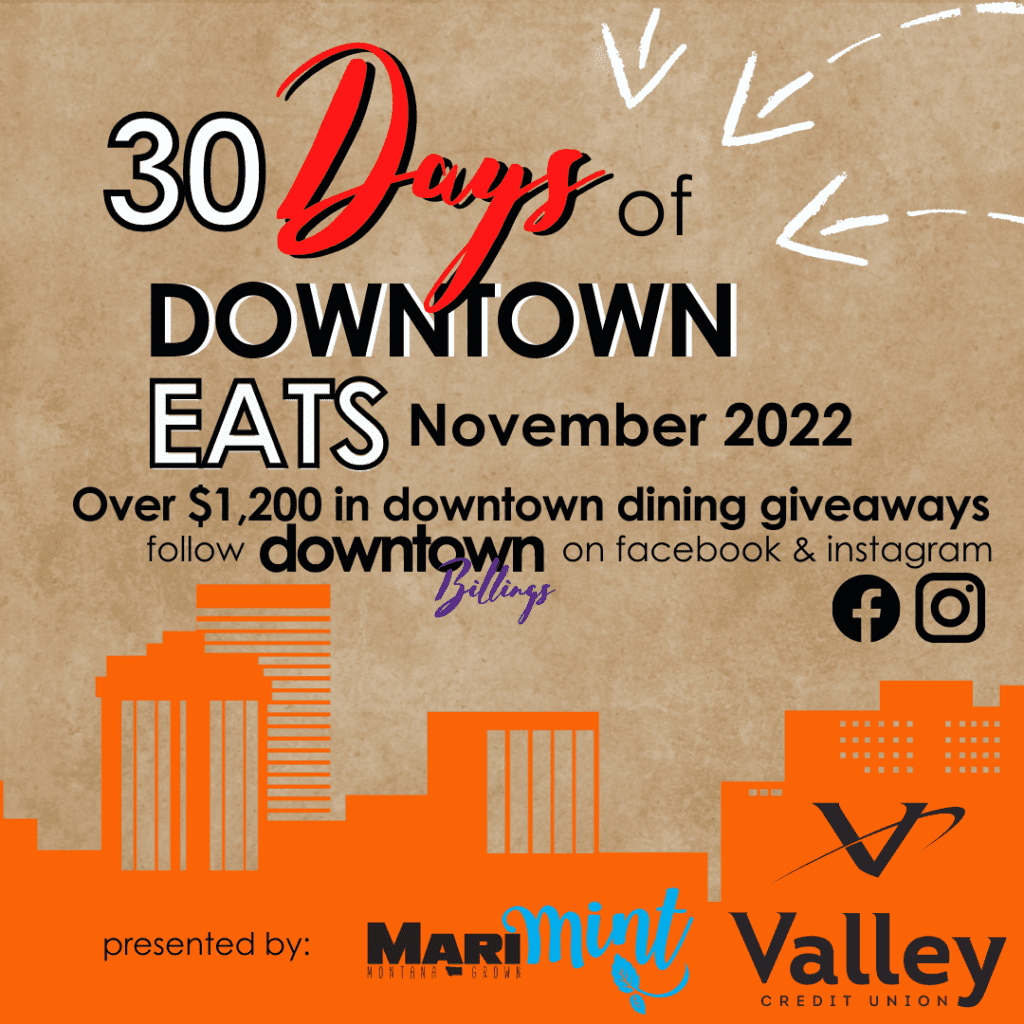 There are Multiple Ways to Come Out A Winner!
Get your 30 Days of Downtown Eats BINGO card and spend the month completing squares for a chance to win a $100 Downtown Billings Gift Card
Enter the daily Instagram & Facebook giveaways for a chance to take home one of 30+ downtown dining gift cards
The Giveaway Details
Get your Bingo card anytime during November 2022 at the downtown Valley Credit Union branch locations (207 N. Broadway or 3100 2nd Ave N.), our DBA office at 116 N. 29th Street, or find one at the various participating locations.
To Complete a square: Write the name the downtown dining location where you completed the square in the square itself.
Complete 5 squares in a row for a BINGO! 1 BINGO gives you 1 entry to win a $100 Downtown Billings Gift Card. OR Turn in a fully completed board for 3 entries.
Have fun and savor all the eateries that downtown has to offer.
Turn your completed BINGO card by December 2nd (Holiday Stroll) to the DBA office, 116 N. 29th Street suite A, or snap a photo and enter it here to be entered in the giveaway. The winning participant will be contacted the week of 12/5/2022
There will be a post shared each day (Monday through Friday) on both our Instagram (@downtownbillings_)  & Facebook that you'll want to keep an eye out for. Yes, you can enter on both platforms because there will be a winner selected from each.
Each daily post will include the daily rules on HOW TO enter to win.
The Facebook and Instagram winners will be notified via a reply to their winning comment the following business day. Once notified, the winner has 72 hours to send Downtown Billings a direct message redeeming their prize before a new winner is selected.
Special Thanks to our foodie event sponsors at Valley Credit Union and MariMint Montana 
---
The Participating Locations
Bernies at the Northern
Big Dipper Ice Cream
Ciao Mambo
Hooligans Sports Bar
Jake's Downtown
Last Chance Pub & Cider Mill
Montana Brewing Co.
Sarah's Mexican Food
Stella's Kitchen & Bakery
TEN at the Northern
The Annex Coffeehouse & Bakery
The Fieldhouse
The Marble Table
The Sassy Biscuit Co.
The Sourdough Bagel
Uberbrew
Walkers Grill