This is part two of a two part series that covers a total of 20 downtown Billings' most loved patios. The downtown area of Billings, Montana  is made up of more than 18 city blocks; with new and old buildings, public art projects, retail, businesses, restaurants, bars, breweries, venues, residential properties of various kinds, and numerous historical landmarks.
20 patios in downtown Billings, MT – part 1 includes 10 patios to enjoy on or around Montana Avenue's Historic District and on First Avenue.

Part two, below includes 10 patios you can enjoy near Broadway as well as patios on other downtown blocks. 
Visit all 20 of these unique outdoor patio spaces to enjoy the abundant downtown sights, sounds, flavors, and vibes. 
---
Patios On or Around Broadway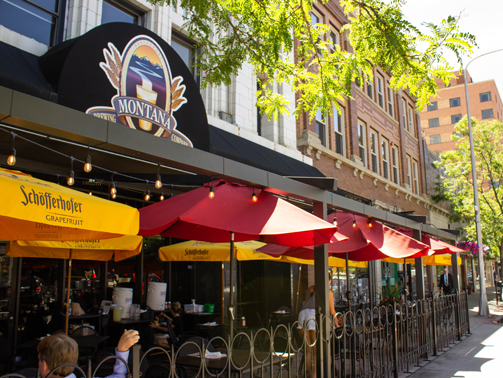 Montana Brewing Company
113 N Broadway
The Montana Brewing Company, known by locals as "The Brew Pub" is located on Downtown's most bustling block. The Brew Pub's large covered patio is open for dining starting late spring through late fall. Day or night the patio offers diners a great view of the revitalized historic Babcock Building across the street. The Babcock building is home to many residents, retail shops, and restaurants. The Brew Pub itself is located in the ground floor of the historic Montana Electric Company Building.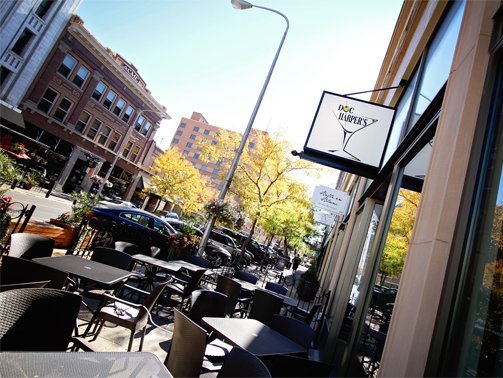 Doc Harper's Tavern
116 N Broadway
 This Martini Bar is located in the downtown core inside the historic Babcock Building. In late spring through late fall, Doc Harper's expands their sidewalk to make room for their popular outdoor patio so you can enjoy your favorite cocktail under the Montana sky while taking in the historic building views and Skypoint structure nearby on Broadway.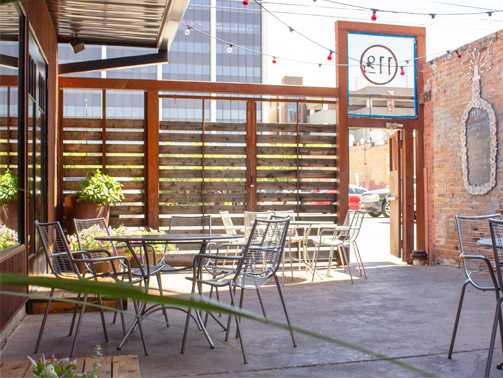 Bin 119
119 N Broadway
Bin 119's urban patio is nestled in a courtyard-esque space behind the restaurant. Bin 119's patio offers customers a quiet place to enjoy a meal and a glass of wine with friends where the hustle of downtown's streets feels far off in the distance.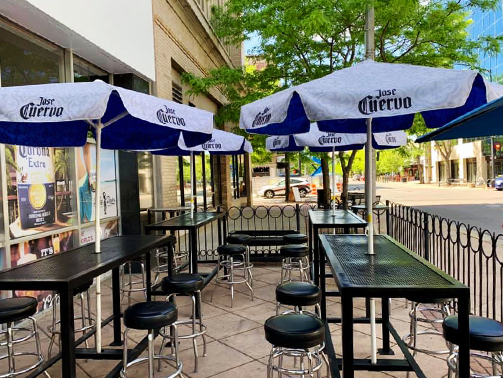 Daisy Dukes Saloon & Dance Hall
222 N Broadway
If you are looking for a night of music, drinks and maybe some dancing Daisy Dukes is a place you should check out. Their front patio offers up high-top tables for you to catch some fresh air and conversation. The location provides you with an urban downtown feel as this patio is located right in the heart of downtown Billings.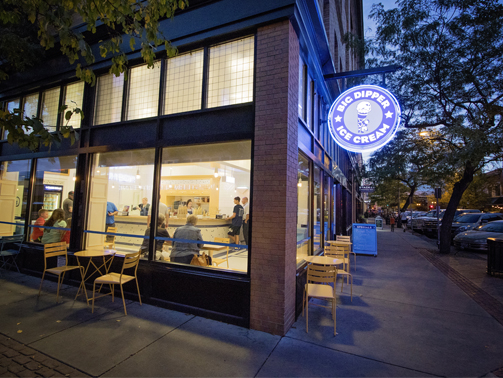 Big Dipper Ice Cream
100 N Broadway
It's hard to beat the good vibes you get when sitting on the corner patio out in front of Big Dipper Ice Cream with a delicious treat in hand. The outdoor seating offers you a chance to take in the architecture of the historic buildings and a chance to say a friendly "hi" to walkerbys. 
Patios on Other Downtown Blocks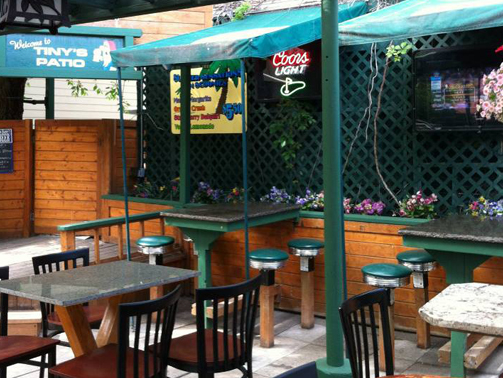 Tiny's Tavern
323 N 24th St
Tiny's Tavern's tagline is 'Billings place to have fun' and it's easy to do on their comfortable shaded back patio. Their patio offers up a casual place to spend some social time with your favorite people and includes an outdoor bar, food service, a stage where you often can catch live music, and outdoor tv's to watch a big game.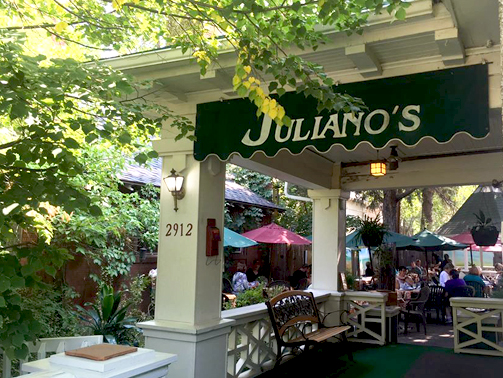 Juliano's Restaurant
2912 7th Ave N
A patio where you can enjoy both your lunch and dinner while feeling like you've stumbled upon a secret garden. This Restaurant and patio is tucked in a downtown residential block close to the hospital corridor. Both the location and surrounding lush greenery and trees has made this patio a local favorite for decades.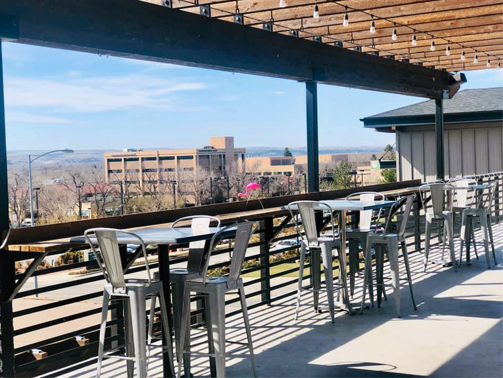 406 Kitchen & Taproom
1233 N 27th St
You have not just one but two rooftop patios to choose from. Both patios offer amazing views of the city, the big Montana sky and the Beartooth Mountains. The abundant food and beverage menu and it's close proximity to the hospitals, airport, and MSU Billings campus, this spot is easy for almost everyone to get to.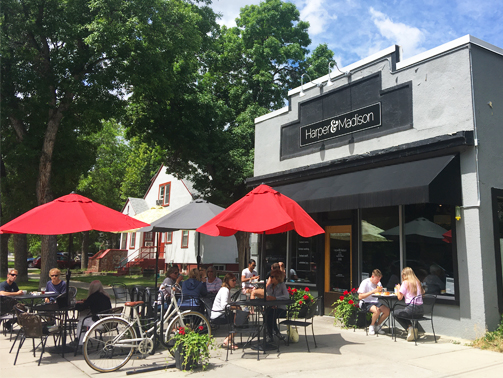 Harper & Madison
3115 10th Ave N
This local cafe and bakery is tucked into a downtown residential neighborhood. The front patio offers a spot for you to bring your furry friends with you while you enjoy a cup of coffee, some breakfast or lunch and soak up the sun. This location allows you a chance to enjoy the tree lined Historic North Elevation District's charm.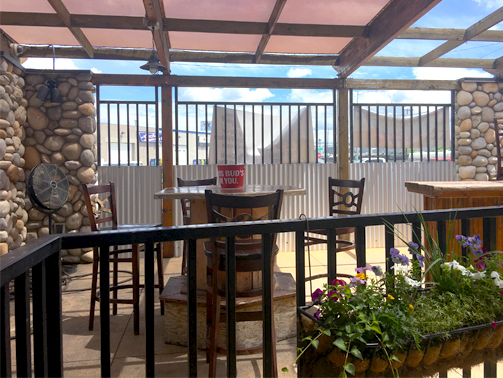 The High Horse Saloon & Eatery
3953 Montana Ave
This spacious covered patio is located on the western edge of the downtown area. It's a great place to catch up with friends, enjoy some food and beverage, and maybe catch one of their weekly dance lessons. 
Don't forget to read 20 patios in downtown Billings, MT – part one to explore more patios in our downtown.