This two-part blog series covers a total of 20 downtown Billings' most loved patios. Billings' downtown is comprised of more than 18 city blocks; with new and old buildings, public art projects, retail, businesses, restaurants, bars, breweries, venues, residential properties of various kinds, and numerous historical landmarks.
Part one, below, includes 10 patios to enjoy on or around Montana Avenue's Historic District and on First Avenue.

20 patios in downtown Billings, MT – part two includes 10 patios you can enjoy near Broadway as well as patios on other downtown blocks. 
Visit all 20 of these unique outdoor patio spaces to enjoy the abundant downtown sights, sounds, flavors, and vibes. 
---
Patios on or Around Montana Avenue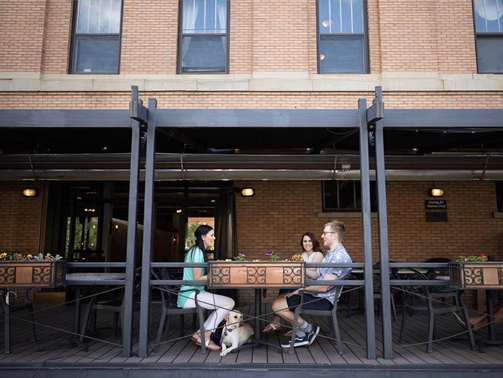 MoAv Coffee
2501 Montana Ave
MoAv covered outdoor patio is a peaceful place with plenty of tables for guests to get comfortable and take in the sights and sounds on the historic block of Montana Avenue. Outdoor power outlets are available for customers to come and enjoy an outdoor remote work session while enjoying a cup of locally roasted coffee. Photograph provided by Visit Billings.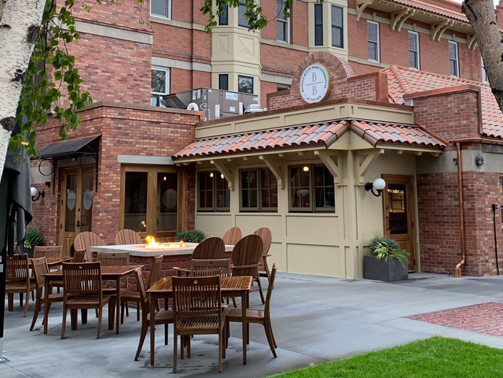 Buffalo Block
2401 Montana Ave
Buffalo Block offers a cozy outdoor patio dining option with plenty of green trees to keep the patio perfect even on the warmest summer days. Their large round outdoor fire pit makes their patio a great destination nearly all year. Located right in the middle of Downtown's Historic Montana Avenue surrounded by many historic buildings like the Historic Billings Depot and the Rex Hotel that the restaurant occupies the ground floor of. Photography via @mclovin1019 on Instagram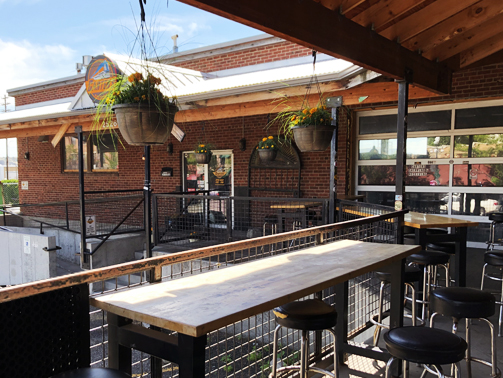 Carter's Brewing
2526 Montana Ave
The Carter's Brewing patio serves up plenty of shade during the summer months. You can pick from 25 different beers all while overlooking Historic Montana Avenue surrounded by many local restaurants, retail shops, offices, venues, and more. Locals and visitors alike enjoy the casual brewery vibes that make this such a great spot to meet up with friends and drink a cold beer after a long workday.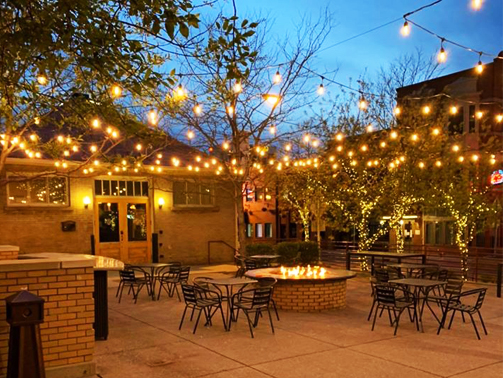 Bar MT
2314 Montana Ave
Located on the Billings Depot's campus, this patio has plenty of charm and space for you to enjoy a relaxing outdoor moment. Enjoy a beverage while taking in the historic buildings and hops fence that surrounds this patio. The trees and large gas fire pit make this a good destination on good weather days year-round.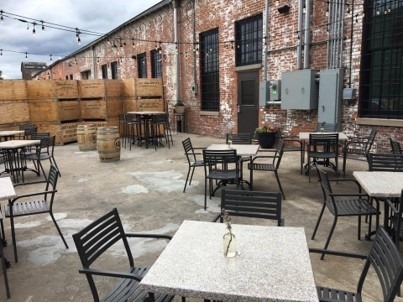 Last Chance Pub & Cider Mill
2203 Montana Ave
If you are looking for a patio with ultimate urban vibes look no further than Last Chance's back patio. It overlooks an alleyway shared with a local Cushing Terrell Architect firm's stunning urban office building. Located on the far eastern end of Montana Ave in downtown's historic district, this spacious patio is located in the back of the brick warehouse building that now houses Last Chance, office space, and a distillery.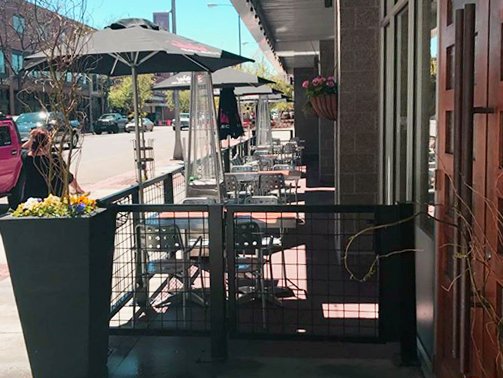 Wild Ginger
2713 Montana Ave
This street side patio in the downtown historic district provides diners plenty to take in. The large umbrellas offer plenty of shade for day time dining and when the sun goes down the patio provides a perfect spot for dinner, music, and cocktails during a night out in Montana's largest City.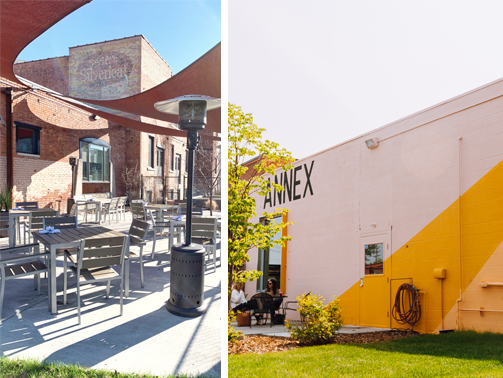 The Fieldhouse & The Annex Coffeehouse & Bakery
2601 Minnesota Ave
These two conjoined patios are so inviting for the whole family. The patios include shaded and sunny dining areas, a cheerful lawn, kids play area, a small local produce garden, and an upfront view of the active Northern Pacific train tracks and historic buildings across the tracks on Montana Avenue. 
Patios on First Avenue North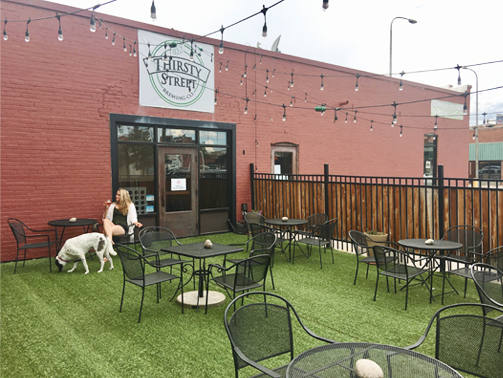 Thirsty Street Brewing Company @ The Taproom
3008 1st Ave N
The taproom's sunny fenced patio with artificial turf grass-makes for a cozy and cool spot to meet up with friends and family to enjoy a cold beverage and nice views of downtown. The taproom serves up 16 in-house brews, sours, and other options like seltzer, cider, and wine.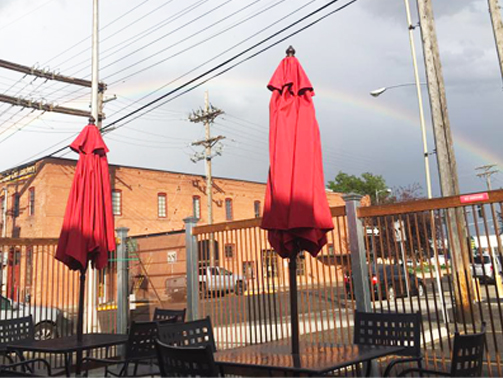 Angry Hanks Microbrewery
20 N 30th St
Angry Hanks Microbrewery is located inside a former 1916 carriage house that sat vacant for many years. This location allows this brewery to do everything from the milling to the packaging in-house. Their sunny side patio makes a great extension of their bright indoor space. Angry Hanks is a favorite after 4 pm social meeting destination all week long.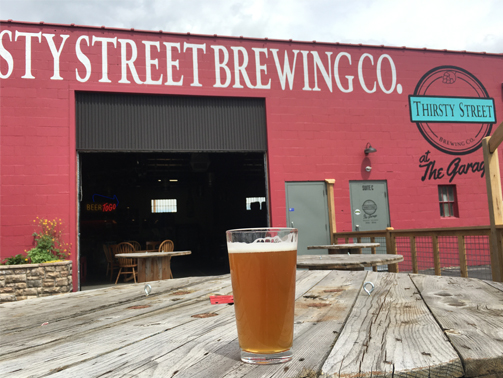 Thirsty Street Brewing Company @ The Garage
2123 1st Ave N
The Garage's spacious patio is connected seamlessly to the indoor space by the opening of a  large garage door. This patio is a great spot to enjoy live local music on Friday and Saturday evenings. The downtown views and cold brews make this patio a perfect happy hour location or weekend destination.
Don't forget to read 20 patios in downtown Billings, MT – part two to explore more patios in our downtown.