St. Patrick's Day Parade & Celtic Street Fair
SATURDAY, MARCH 14th 2015
The Downtown Billings Association and Hooligans are excited to present the 33rd annual St. Patrick's Day Parade and Celtic Street Fair! Let us continue the tradition by inviting area Irish Heritage Clans to participate in the parade.
We will make it a day to celebrate Irish tradition and flair! Bring your colors and your kilts – and your friends and family – and meet us for a great time in Downtown Billings! All proceeds from the parade and street fair go to Downtown Billings Alliance Programs such as Spare Change for Real Change and the Public Art Program.
Hooligans will host an entertainment stage at 1st Avenue North and Broadway featuring live music by the Repeat Offenders, as well as, an Irish Beer Garden near the stage. For something new this year, Hooligans and Montague's will present an exciting public promotion Diamond in the Hay Stack. Individuals will have the opportunity to step into a ring filled with hay to search for a ten thousand dollar diamond buried somewhere within! This promotion will last until the diamond is found.
Once again this year, Pug Mahon's, Good Earth Market, and the Downtown Billings Alliance will be sponsoring the Little Leprechaun Contest, a program aiming to benefit classrooms in School District 2.  Students in the 2nd grade and under can register for the contest and walk in the parade dressed as leprechauns. The groups will be judged on the "cutest" costumes and cash prizes will be given to the top five classrooms represented.  All groups of leprechauns must be accompanied by an adult.
                          
Click HERE for the Float and Fair Participant Application
Are you in the parade? Parade Float Line-Up and Staging Map coming soon.
St. Patrick's Day Parade: 11 a.m.
The parade will begin at North 26th and 3rd Avenue North and proceeds west on 3rd street turning south on North 32nd street, then turning again onto 2nd Avenue North and proceeding east to the certified end at North 27th street.
Celtic Street Fair:  10 a.m. to 2 p.m.
The Street Fair includes many food selections,  a wide variety of vendors, and children's activities, all while entertainment takes place on the stage. Fair setup and street closure begins at 8:00 a.m. downtown on North Broadway (28th) between 1stand 3rd Avenues. Join us and our vendors to celebrate the spirit of the Irish!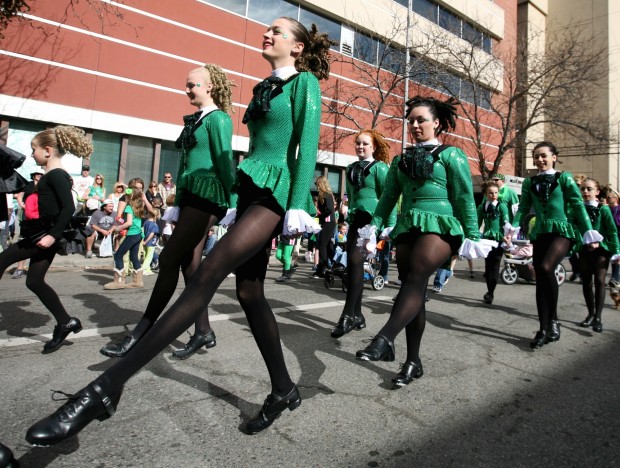 Sponsors
Would you like to help make the event even more of a success next year? Click HERE for Sponsorship information!